4D2U Movie Wins "Best VR Science Experience" at the 2018 Lumiere Awards
| Topics
Our VR (virtual reality) movie "A Journey Through the Milky Way" won the Best VR Science Experience at the Lumiere Awards, promoted by the US Headquarters of the Advanced Imaging Society. This movie was made by the NAOJ Four-Dimensional Digital Universe (4D2U) Project. Dr. Junichi Baba performed the simulation and Dr. Hirotaka Nakayama performed the visualization. The movie accurately recreates the Milky Way, in a virtual world, based on large-scale simulations. By doing this, you can enjoy the Milky Way from viewpoints that people cannot normally see.
The Lumiere Awards are presented by the head office of the Advanced Imaging Society based in the United States to recognize outstanding works using advanced technology, such as stereoscopic movies, HDR (high dynamic range) movies, and VR movies, produced or released in 2017.
From among the winners of Lumiere Japan Awards announced last November, the movie "A Journey Through the Milky Way" by the 4D2U Project was nominated to the head office's Lumiere Awards and won the Best VR Science Experience Award.
The Milky Way Galaxy is visualized based on the simulation performed by Dr. Junichi Baba using the NAOJ's supercomputer, "ATERUI." In this movie, the Milky Way Galaxy looks real thanks to the large-scale simulation data, which included various physical mechanisms required for galaxy evolution such as the stars' and gases' gravitational effects and the influences on the surroundings caused by the formation of stars. Furthermore, by transforming the movie into VR, you feel like you are flying freely through the Milky Way Galaxy. You can also see the galaxy from outside.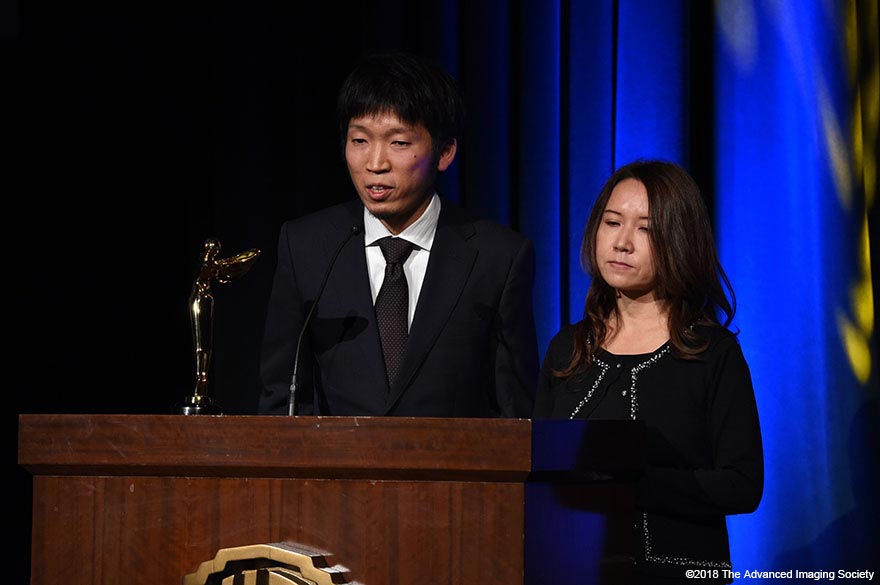 The award ceremony was held at Warner Bros. Studio (Hollywood, Los Angeles) on February 12, 2018. Dr. Hirotaka Nakayama, a research expert in the 4D2U Project and creator of the movie, received the trophy. In his speech at the awards ceremony, he said that, "I am honored to receive this award. When I create visualization movies, I try to make cool, scientifically correct movies using scientific data, not imaginary ones. I hope that more people remember the 4D2U Project through this award. Furthermore, I hope to come back next year (and receive the award again)! "
In November 2017, the 4D2U movie "A Journey Through the Milky Way" won the Grand Prix for the VR Category of the 2017 Lumiere Japan Awards, promoted by the Advanced Imaging Society.
These simulations and movie were supported by MEXT HPCI Strategic Program Field 5 "The origin of matter and the universe" and the Joint Institute for Computational Fundamental Science (JICFuS).
Related links