4D2U movie Wins Lumiere Japan Awards 2017 Grand Prix
| Topics
Our VR (virtual reality) movie "A Journey Through the Milky Way" won the Grand Prix for the VR Category of the Lumiere Japan Awards 2017, promoted by the Advanced Imaging Society. This movie was made by the NAOJ Four-Dimensional Digital Universe (4D2U) Project. Dr. Junichi Baba performed the simulation and Dr. Hirotaka Nakayama performed the visualization. This movie visualizes the scientifically correct Milky Way Galaxy through large-scale simulations including various physical mechanisms.
The Lumiere Japan Award is presented by the Advanced Imaging Society Japan Committee (AIS-J). The purpose of this award is to expand and improve the quality of contents by recognizing excellent and advanced movies that were produced and released in Japan. The VR movie "A Journey Through the Milky Way" (nominated by NAOJ) won the Grand Prix for the VR category of the Lumiere Japan Awards 2017. The reasons it won are this movie visualizes the Milky Way true to the simulation data from viewpoints that people cannot normally see and also because it is expected to be effective in educational outreach. The awards ceremony took place at the International Broadcast Equipment Exhibition 2017 (Inter BEE 2017, held in Makuhari Messe from Nov. 15 to Nov. 17). Dr. Hirotaka Nakayama, a research expert in the Four-Dimensional Digital Universe (4D2U) Project, and Dr. Junichi Baba, a specially appointed research staff member in the JASMINE Project Office, accepted the trophy. Dr. Baba did the simulation and Dr. Nakayama created this movie from the simulation results.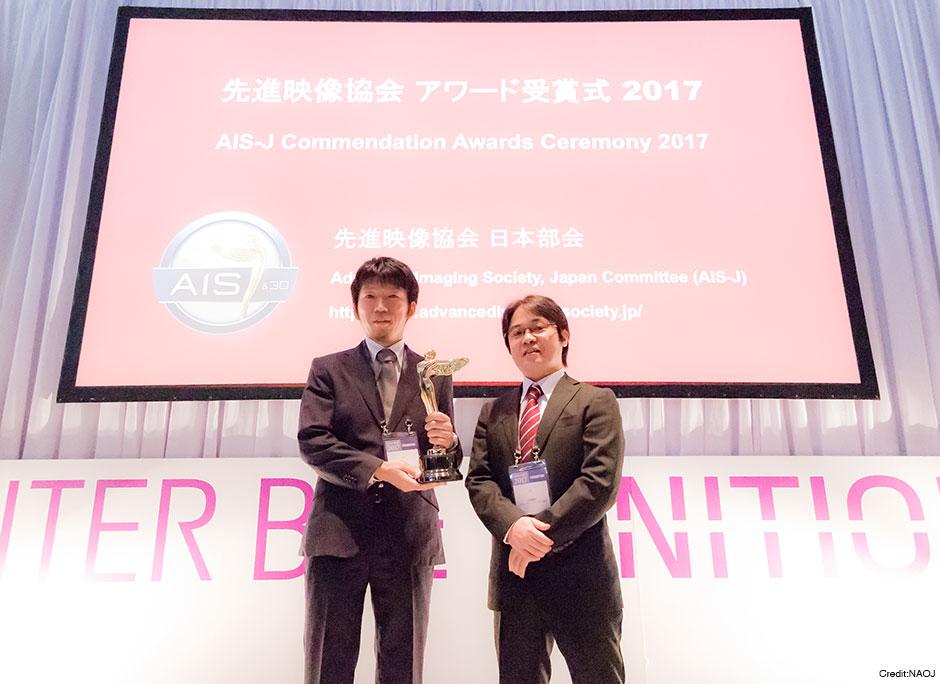 The 4D2U project makes VR movies that are scientifically accurate using the latest observational data and simulation results. Dr. Nakayama expressed his joy upon receiving the prize. "When I create movies for the 4D2U Project, I have to think about more than just how to visualize the data. There are also the technical aspects of how to turn it into VR content, and production aspects like how to compile the information into a single coherent story. I am very happy that my efforts were recognized and that from among the many nominations we were able to win the Grand Prix."
The winning movie visualizes data that required several months of calculations with the supercomputer "ATERUI" at NAOJ. Dr. Baba happily explains the highlights of the movie, "By watching this movie, you can understand that the Milky Way and all visible stars which you can see in the nightly sky are actually the "Milky Way Galaxy," where hundreds of billions of stars are distributed in a disk shape. You can see stars born in gas clouds destroy the parent cloud. You can also see stars moving dynamically in the galaxy. I am glad that these astronomical education aspects were recognized, in addition to the visualization techniques."
This movie was carried out with the support of MEXT HPCI Strategic Program Field 5 "The origin of matter and the universe" and the Joint Institute for Computational Fundamental Science (JICFuS).
Related links