Advertising NAOJ with CREEPY Science and Mitaka in the USA
| Events
To publicize NAOJ overseas, NAOJ runs booths at international meetings held abroad. Today we will introduce two cases where NAOJ hosted a booth at meetings in the United States of America: the World Conference of Science Journalists (WCSJ) and the American Association for the Advancement of Science (AAAS).
Appealing to Overseas Journalists with Japan's CREEPY Science - WCSJ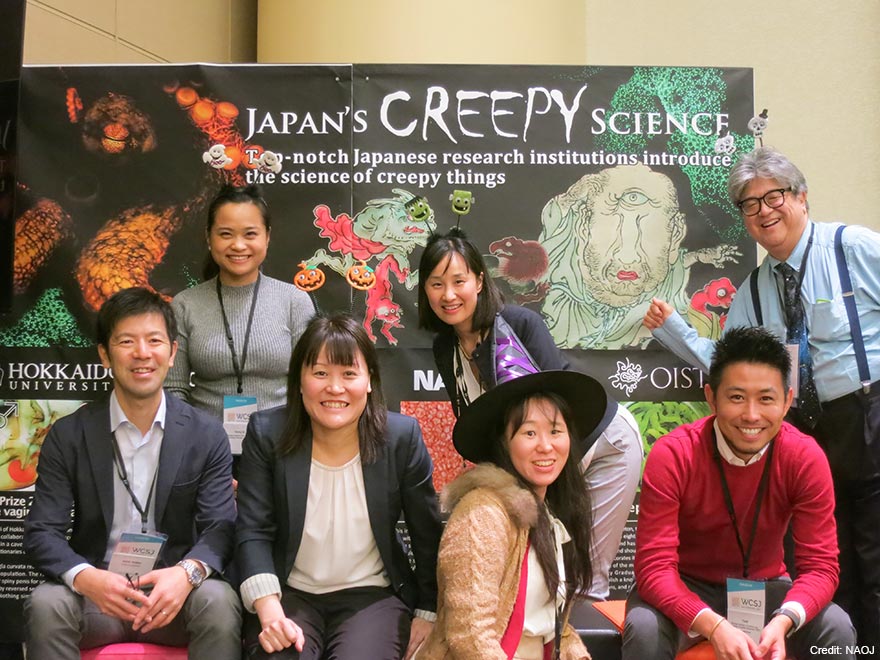 During the Halloween season at the end of October, NAOJ exhibited at the World Conference of Science Journalists (WCSJ) held in San Francisco. It was a joint booth with three Japanese universities. A total of 1,363 science journalists from over 70 countries participated in this meeting.
We knew that journalists love striking subjects. And because it was held during the Halloween season, we adopted "Japan's CREEPY Science" as our joint theme. The collaborative poster included illustrations of Japanese ghosts and also creepy, spooky images from each organization. NAOJ provided a photo and explanation of the Sun's granules and the Hinode satellite which actually photographed the granules. We chose this photo because the Sun's granules look creepy and spooky, bubbling like a witch's brew.
In the booth, we held mini-presentations where Dr. Hitoshi Yamaoka (Head of the NAOJ Public Relations Office) presented the latest research results on topics like gravitational waves. In addition, we demonstrated Mitaka (Note) and "NAOJ at Home (a box that allows you to experience NAOJ facilities in VR)."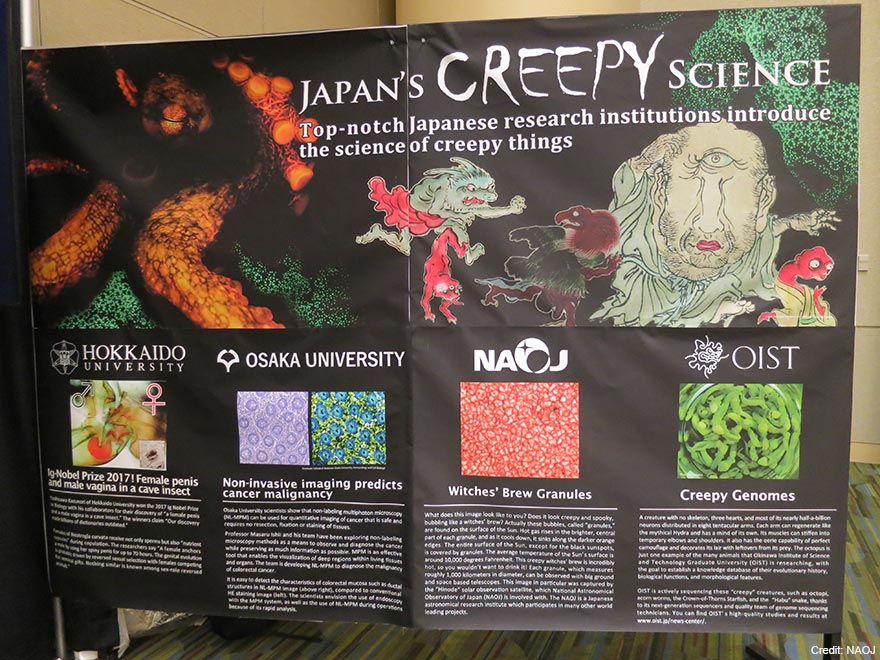 Our booth was well received. Especially, the collaborative poster became very popular and many reporters said that, "I was looking for something catchy like this."
A famous science reporter introduced our booth in her twitter as the "Best display award." Halloween is about costumes and candies, so one of our NAOJ team also wore a witch's hat. Many participants told us that, "This exhibition is very good, but I like your witch's hat too!"
Since the target of the conference is science journalists, some participants already knew about ALMA, the Subaru Telescope, and TMT. However, few of them knew that Japan, and more specifically NAOJ, is involved in these projects. Therefore, it was a great opportunity to inform journalists about NAOJ.
Mitaka Captivates Children Overseas - AAAS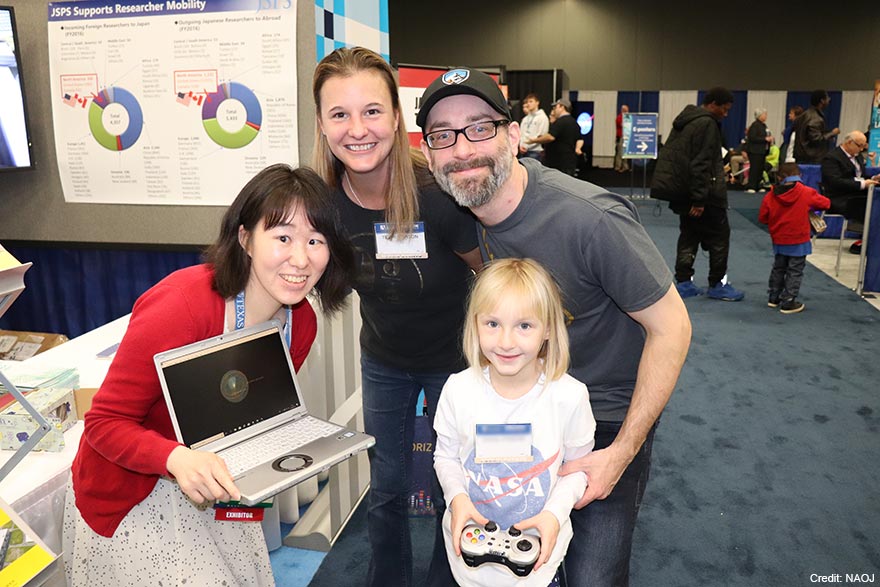 Then from February 15 to February 19, the American Association for the Advancement of Science (AAAS) annual meeting was held in Texas. We hosted a joint booth with JSPS (Japan Society for the Promotion of Science) and two Japanese universities. About 10,000 participants from the States and many other countries attended the meeting. While the intended audience of WCSJ was scientific journalists, the AAAS meeting attracted many different types of people. Our audience at AAAS included children and their families, science communicators, researchers, students, and journalists.
In our booth, we introduced the visitors to NAOJ's projects. In addition to that, we let participants experience and operate Mitaka.
Many children and their families came on Saturday and Sunday for the Family Science Days. When we demonstrated Mitaka, many children came to our booth saying, "Is that a game? I want to play too!"
One boy played Mitaka exhaustively. When he came to our booth with his parents for the first time, he learned the constellations with Mitaka's planetarium mode. He was surprised by the size of the Universe when he played Mitaka's outer space mode. And when he came back to the booth, he learned how to handle Mitaka with ease. By playing with it, he learned about the probes by zooming in on various probes and changing the time and speed. While he was playing, he gradually became engrossed and sat down on the booth's floor, relaxed. He operated Mitaka freely and manipulated the Universe as he pleased. Apparently, he was addicted to Mitaka. His parents also said, "He seems to be into this software. We will download it."
Also, a non-profit foundation staff member was really moved by how she could see the Universe with Mitaka and said, "My daughter loves the outer space; I will bring her tomorrow. She will love it!" And on the next day, she actually came back with her daughter. As predicted, the daughter also enjoyed playing Mitaka. Mitaka appeals not only to children but to adults as well.
We want Everyone All Over the World to Know about NAOJ
We would like to keep publicizing NAOJ's activities internationally so that people outside of Japan will become interested in the Universe and astronomy, and knowledgeable of NAOJ.
(Note) Mitaka is an astronomical software program developed by our astronomers. Mitaka visualizes the Universe based on the latest data. With this, you can experience space travel with the "space mode": take off from Earth, visit our Solar System, and go all the way out to 13.8 billion light-years away from the Earth. With the "planetarium mode," you also can enjoy the constellations and night sky as seen from different locations. Back
Related links