Message from New Director General of NAOJ, Dr. Saku Tsuneta
| Topics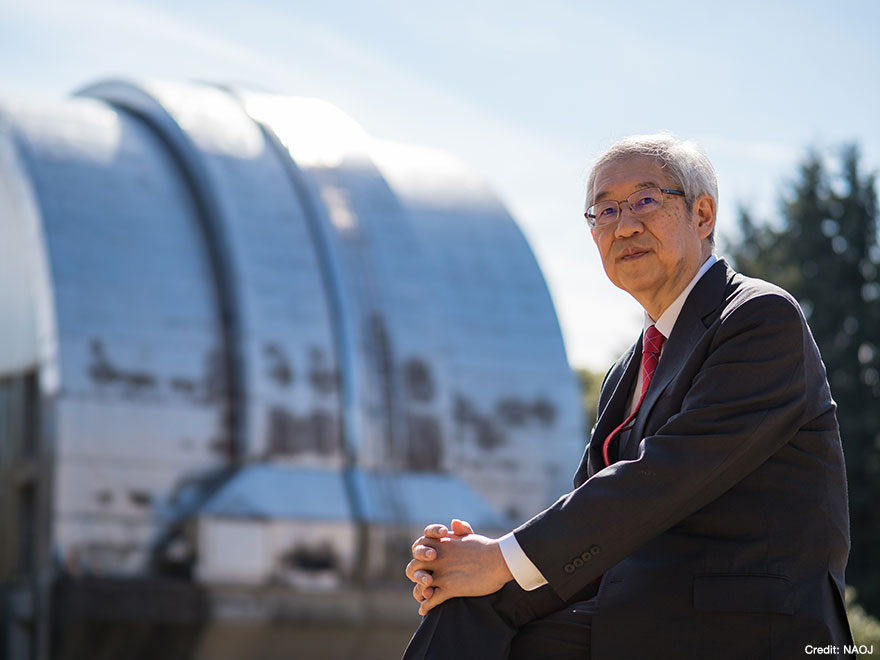 I have succeeded Dr. Masahiko Hayashi as Director General of the National Astronomical Observatory of Japan (NAOJ) since April 1, 2018. Over the past 20 years NAOJ has grown extensively, producing remarkable results in both Japanese and world astronomy. In particular, the very large role NAOJ has played in the ALMA Project, constructed and operated through international collaboration, is a milestone in the development of science in Japan. I have profound admiration for the exceeding achievements made so far by NAOJ. Becoming the Director General of a research institute which has produced such brilliant results is a weighty responsibility. I am determined to live up to your expectations.
To tell you a little about myself, I have been developing new-types of instruments to be aboard scientific satellites, sounding rockets, and balloons. With these instruments I study the origin and behavior of the solar magnetic field. I also investigate activities driven by magnetic field energy, such as explosions on the solar surface or the heating mechanism of the chromosphere and corona. When I was in graduate school, Japan didn't have any world class facilities, not even the Nobeyama 45-m Radio Telescope. In these circumstances, I began solar research simply because "the Sun is closer than other stars." During graduate school, I was involved in developing the hard X-ray telescope with a modulation collimator for the solar observation satellite "Hinotori." After that, I developed the soft X-ray telescope aboard the solar observation satellite "Yohkoh" in collaboration with NASA; was involved in the development of the Solar Optical Telescope for "Hinode;" and conducted research using balloons and sounding rockets. Development for "Yohkoh" and "Hinode" took close to 10 years each. Instrument development has been a large portion of my 30 year career as a research scientist. With graduate students, I wrote many papers based on the data obtained with those missions. But what I remember most is the joy and relief when an instrument works as expected in space.
I have a 6 point agenda for managing NAOJ.
Applying our full strength to the development and operation of large projects, first and foremost the Thirty Meter Telescope (TMT) Project
Kickoff to study the candidates for future NAOJ projects to follow TMT
Cultivating organic cooperation with universities and the astronomy community
Appropriate use of human resources within NAOJ
Appealing to the importance of astronomy via its future vision to MEXT, other fields of the natural sciences, the media, etc.
Pursuing space missions
I would like to explain more about a few points in this agenda. One of the issues in the construction of TMT is securing the large budget for the construction and operation. This is a nontrivial task. The tendency for large science projects to be severely restricted on the financial side is not unique to either the TMT Project or NAOJ. Institutes like the High Energy Accelerator Research Organization (KEK) or the Institute of Space and Astronautical Science (ISAS) seem to be in more or less similar situations. In this harsh environment, it is difficult to obtain the consent of policy makers by appealing to the importance of pure science alone. We need to be in a position to scrap-and-build on our own, and to use NAOJ's advanced capabilities in technology to help national endeavors or find solutions to expedite the growth of Japanese industry. From this point of view, we may need to prepare a new justification for the continued existence of astronomy research in Japan.
An important part of the second point "Kickoff to study future projects," is establishing a plan for after the completion of TMT, based on NAOJ's achievements. I feel it is vital to explain our vision to the tax-payers, government, and science community: what direction NAOJ will take over the course of the next 20 years and what new findings about the Universe we will bring about. Strategic suggestions about possible future directions to further enhance the appeal of astronomy, which now includes subjects like fundamental physics and life sciences, will help us secure excellent personnel, acquire the funding necessary to realize our plans, and be the leading partner in international collaborations. To do this, it is important to first establish a framework and scope for crafting such a plan for the future.
The final point of the agenda is "Pursuing space missions." This is an important matter which needs to be included in the discussion for the aforementioned plan for the future. The time has come to ask, "Will NAOJ be involved in future space development or not?" and "If it is involved, what level of involvement will it have?" It is often forgotten that NAOJ, which has steadily carried out large projects and the development of leading edge technology in ground based astronomy, is in a very favorable position to develop space instruments aboard satellites and probes, as demonstrated by the success of "Hinode." There's not that much of a difference between ground-based and space-based technologies; once a technology has been proven on the ground, it becomes possible to apply it to space missions. I feel NAOJ must make better use of its potential in this regard. In addition to expanding the ground-based astronomy which is the core mission of NAOJ, we should consider proposing/creating unique instruments and missions which ISAS cannot carry out.
It's a little out of order, but returning to the fourth point of the agenda, "Appropriate use of human resources within NAOJ," an important element for the success of our projects is the high morale and cooperation of the researchers, technical employees, general staff, and engineers at our partner enterprises who lend their strength to handling the daily work of the projects and overcoming problems. Without their indomitable fortitude, NAOJ could not hope to succeed. We also need to realize that in the era of big projects, the nature and scope of a researcher's job is rapidly changing. There is an inevitable shift from an image of academics conducting purely scientific research to members of a research-team optimized to execute the project. It will become increasingly important to have a balanced team composed of talented people from many different categories (researchers who focus on academic research, researchers and engineers responsible for project management and research & development, engineers and technical staffs who support the project, etc.) and a corresponding organization structure to promote good relations between them.
Finally, let me mention once again that NAOJ's achievements up to now have been truly outstanding. I would like to express my profound respect for my predecessors who have labored to advance NAOJ. By utilizing the heritage accumulated over many years, we will be able to promote our various projects, first and foremost TMT, and construct a shared vision for what lies ahead. With that, I believe NAOJ and world astronomy will be able to make great strides.
After it was decided that I should assume the role of Director General, I heard from some people, "It must be nice returning to an observatory you're already familiar with." But when I was on NAOJ's roster, I devoted myself to my projects; then there was a five year gap while I was at ISAS where I was unaware of NAOJ's overall evolution. While I will continue to build on the efforts of former Director General Hayashi and his Directorate, I'm also aware that I am a newcomer, so I would like to start by opening a dialog with the employees to better understand the situation of each project, etc.
I look forward to this new opportunity.
April 1, 2018
Dr. Saku Tsuneta