Publicizing NAOJ Overseas with "IZAKAYA: Japanese Science Pub"
| Events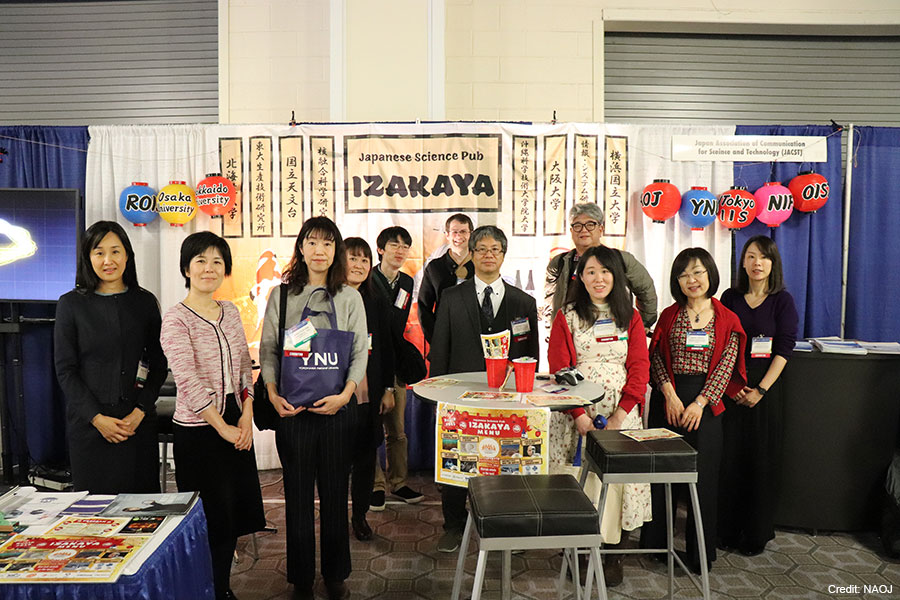 NAOJ and other Japanese research organization are striving to increase their international activities and recognition. NAOJ is not well-known abroad. Therefore, to publicize NAOJ internationally, NAOJ presents exhibit booths at international events and academic meetings held overseas. NAOJ ran a joint booth with eight other research institutes and universities at the 2019 Annual Meeting of the American Association for the Advancement of Science (AAAS) (Note 1) from February 14 to 17 in Washington D.C., USA.

To attract many people to our joint booth, we adopted the theme "IZAKAYA: Japanese Science Pub." Mimicing the decore of IZAKAYA (Japanese Pubs), we decorated the booth with illustrations of a crane, a carp, bottles of sake, and ochoko (sake cups), and hung Japanese paper lanterns from the curtain rail. In addition, the flyers that we distributed at the booth were designed to resemble an IZAKAYA menu. Unlike a real IZAKAYA, we could not serve alcohol or food there, but we served a selection of recent science topics from our organizations. Our theme and design were well-received.


Many visitors, such as science communicators, members of the press, families with children, researchers, and students, came to NAOJ's booth. For the press, we not only introduced NAOJ's science menu, but also distributed our latest press releases and introduced our press release mailing service. For science communicators and children, we explained the Mitaka software (Note 2) and let them operate it. For students and researchers, we explained the latest NAOJ research and directed them to our recruitment page. Our booth was located at the back of the hall, so we were worried whether people would come. But many visitors came to our booth because NASA's booth was located nearby and because our booth design had visual impact.


NAOJ welcomes overseas press, researchers, students, and visitors so that we can become more international. We will keep publicizing NAOJ's activities internationally so that people abroad will become more interested in NAOJ.
Author: Hiroko Tsuzuki (Public Relations Center, NAOJ)
(Note 1) AAAS is the largest general scientific society and is the publisher of the famous science journal called "Science." Back
(Note 2) Mitaka is an astronomical simulation software program developed by our astronomers. You can download Mitaka and play with it. Mitaka website Back
Related links