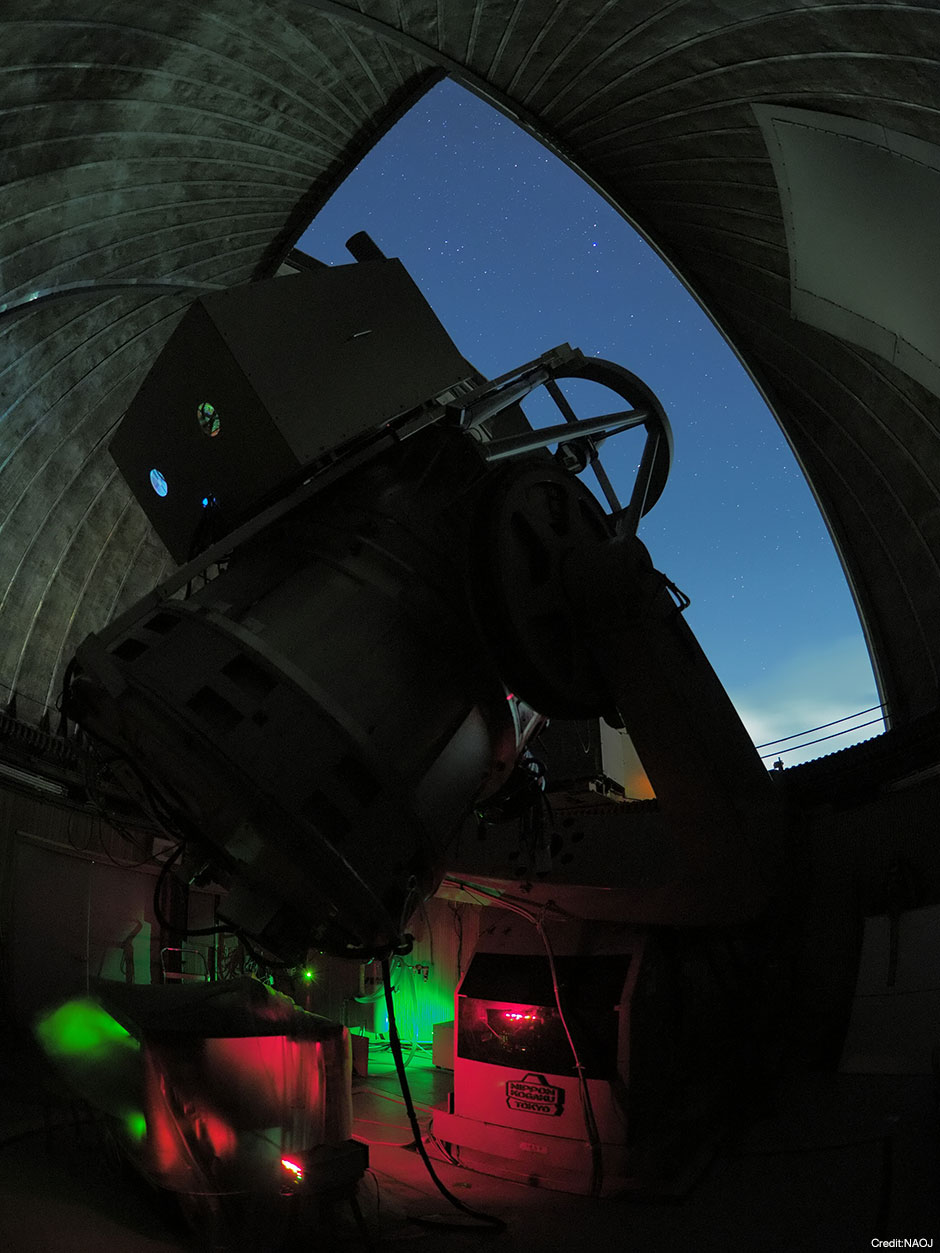 This is a photo of the Wide Field Camera OAOWFC observing the summer Milky Way. OAOWFC is a camera that was made by remodeling the 91 cm aperture Cassegrain telescope that has been active since the foundation of Okayama Astrophysical Observatory in 1960. Among the world's near-infrared cameras, it has the largest field of view (one full moon). It is also an autonomous robot which can perform self-directed observations. It is good at finding celestial objects in the wide night sky. Therefore, it mainly patrols the Milky Way to survey the variable stars. But it also performs follow-up surveys when unexpected objects appear.
Veteran Soldier
The telescope which became the platform for OAOWFC was the first one meter class domestic Cassegrain telescope. It was produced 57 years ago by Nippon Kogaku K.K. (now Nikon Corporation). From the beginning it has performed various studies including precise luminosity measurements of stars and survey studies of stellar composition, producing many scientific results. In order to advance this research, observatory staff members and university researchers developed observational instruments dedicated to this telescope and performed many observations. OAOWFC is the eleventh observational instrument for this telescope. The current 91-cm reflector has an infrared eye, quietly staring at the night sky tonight as well.
No Effects from Light Pollution
The blue sky seen through the slit is the night sky illuminated by city lights. It might look very bright, but fortunately OAOWFC isn't affected by city lights. In the near-infrared region, the influence of scattered light is less than in visible light, so there is little effect from city lights and moonlight. The darkness of the night sky is almost the same everywhere in the world. The green and red light in the dome emanate from the data capturing panel equipment. Since OAOWFC is only sensitive in the near-infrared, these lights don't appear in the observation images.
Text by: Kenshi Yanagisawa (Okayama Astrophysical Observatory, NAOJ)
Translation by: Hiroko Tsuzuki and Ramsey Lundock (Public Relations Center, NAOJ)
Image Data
| | |
| --- | --- |
| Date | August 2016 |
| Photographer | Yutaka Iijima |
| Credit | National Astronomical Observatory of Japan |
| Terms of Use | This image can be used without permission for research presentations, conferences, and school classes. In other cases, it cannot be used without prior permission. If you would like to use it, please fill out an application. In the case of commercial use, a photograph usage fee might need to be negotiated with the photographer, Mr. Yutaka Iijima. |
Downloads
Related Link