Cherry Blossom Silhouette on the Gautier Meridian Circle Building
Photo・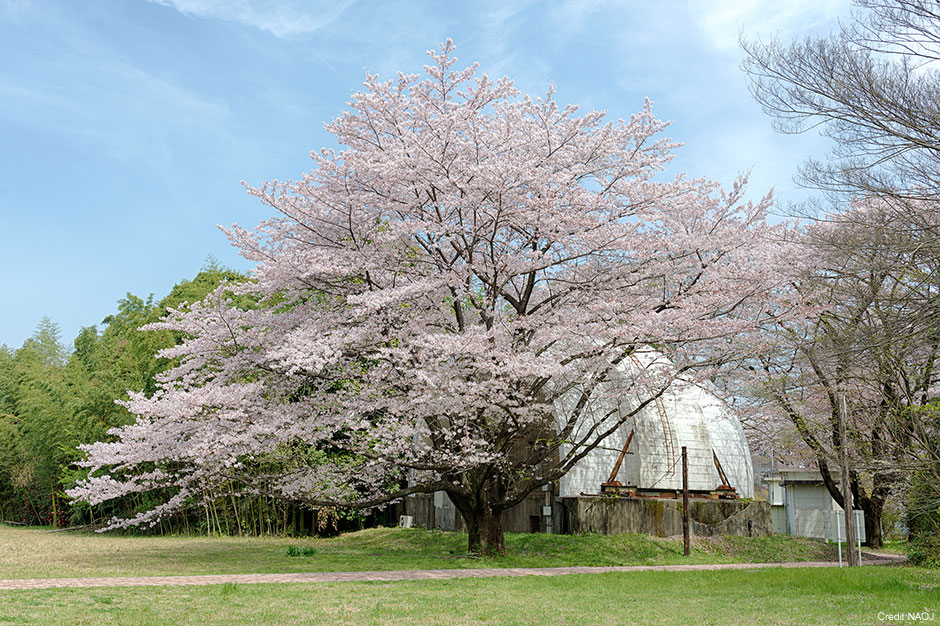 This picture captures thin clouds on a pale blue sky, still-green young blades of grass, and red tinged cherry blossoms in full bloom. With pastels befitting the season, NAOJ Mitaka Campus is dyed in spring colors. The unique semicircular building that stands beside the tree filled all the way to the tips of its branches with blooms is the Gautier Meridian Circle Building. On the white roof adorned with cherry blossoms like a Hanagasa (Note 1) sway the shadows of the flowers. There are many cherry trees in NAOJ Mitaka Campus, but among them, this is one of the most beautiful scenes that looks like a wonderful panorama picture.
Cherry Blossoms In the Regular Open Course
NAOJ Mitaka campus is quite large, but the visitors' courses which you can enter are limited. The Gautier Meridian Circle Building is part of the regular open course. Therefore, you can visit here and see this cherry blossom scene in the regular open course. Built in 1924 (Taisho era 13), the Gautier Meridian Circle Building is an observing room which was used for observing the celestial bodies passing the meridian and determining the precise positions of the Moon, planets, stars, distant galactic quasars, and so on. It was registered as a tangible cultural property of Japan in 2014.
Text by: Seiichiro Naito (Public Relations Center, NAOJ)
Translation by: Hiroko Tsuzuki and Ramsey Lundock (Public Relations Center, NAOJ)
(Note 1) "Hanagasa" is a Japanese straw-hat adorned with flowers.Back
Image Data
| | |
| --- | --- |
| Date | April 6, 2016 |
| Photographer | Shogo Nagayama |
| Credit | National Astronomical Observatory of Japan |
Downloads
Related Link