Occultation of Aldebaran Occurs in Northern Japan on October 10 (October, 2017)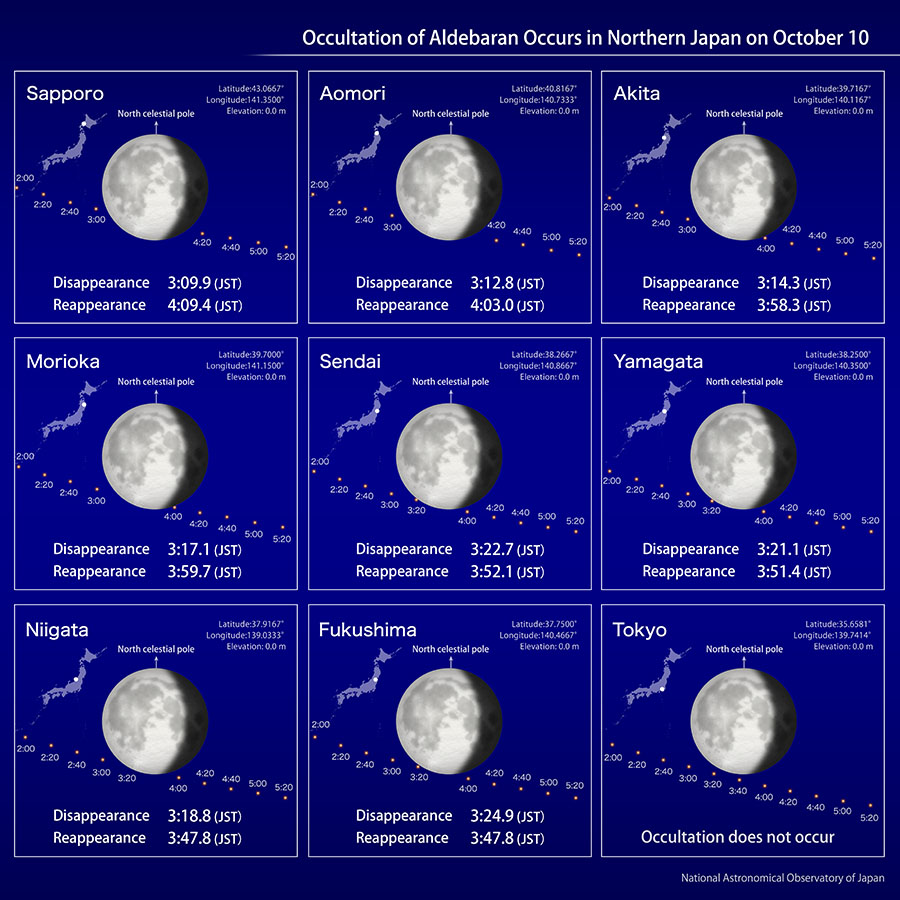 Let's observe the Occultation of Aldebaran!
Before dawn on October 10, the waning gibbous moon hides the 1st magnitude star Aldebaran in the constellation Taurus, causing an "Occultation of Aldebaran." In 2017, you can observe the occultation of Aldebaran from Japan on several different nights. But this occultation can be observed mainly from northern Japan.
When the occultation starts, the Moon and Aldebaran are at a high altitude in the southern sky. Aldebaran gets covered by the bright edge of the Moon (disappearance), and emerges from behind the dark edge of the Moon (reappearance). Unlike a planet which can be resolved into a disk, a star like Aldebaran appears as just a dot. When a planetary occultation occurs, it takes some time from when it starts to disappear until the planet is completely covered by the Moon (or from when it starts to reappear until it is completely visible). But, for a fixed star these transitions take only a brief moment. It is good to observe the occultation with binoculars or a telescope and to start observing a little earlier than the actual predicted time, so that you don't miss the moments of disappearance and reappearance.
The times for the disappearance and reappearance differ from place to place. The predicted times for the occultation at major locations in Japan are as follows.
Occultation of Aldebaran on October 10, 2017 (All calculations assume an altitude of 0.0 meters at each location.)

| Location | Latitude | Longitude | Disappearance | Reappearance |
| --- | --- | --- | --- | --- |
| Sapporo | 43.0667° | 141.3500° | 3:09.9 | 4:09.4 |
| Aomori | 40.8167° | 140.7333° | 3:12.8 | 4:03.0 |
| Akita | 39.7167° | 140.1167° | 3:14.3 | 3:58.3 |
| Morioka | 39.7000° | 141.1500° | 3:17.1 | 3:59.7 |
| Sendai | 38.2667° | 140.8667° | 3:22.7 | 3:52.1 |
| Yamagata | 38.2500° | 140.3500° | 3:21.1 | 3:51.4 |
| Niigata | 37.9167° | 139.0333° | 3:18.8 | 3:47.8 |
| Fukushima | 37.7500° | 140.4667° | 3:24.9 | 3:47.8 |
| Tokyo | 35.6581° | 139.7414° | ---------- | ---------- |
| Kyoto | 35.0167° | 135.7500° | ---------- | ---------- |
| Fukuoka | 33.5833° | 130.4000° | ---------- | ---------- |
| Naha | 26.2167° | 127.6667° | ---------- | ---------- |