The sky of Tokyo, Calendar, Planets (May, 2017)
The sky of Tokyo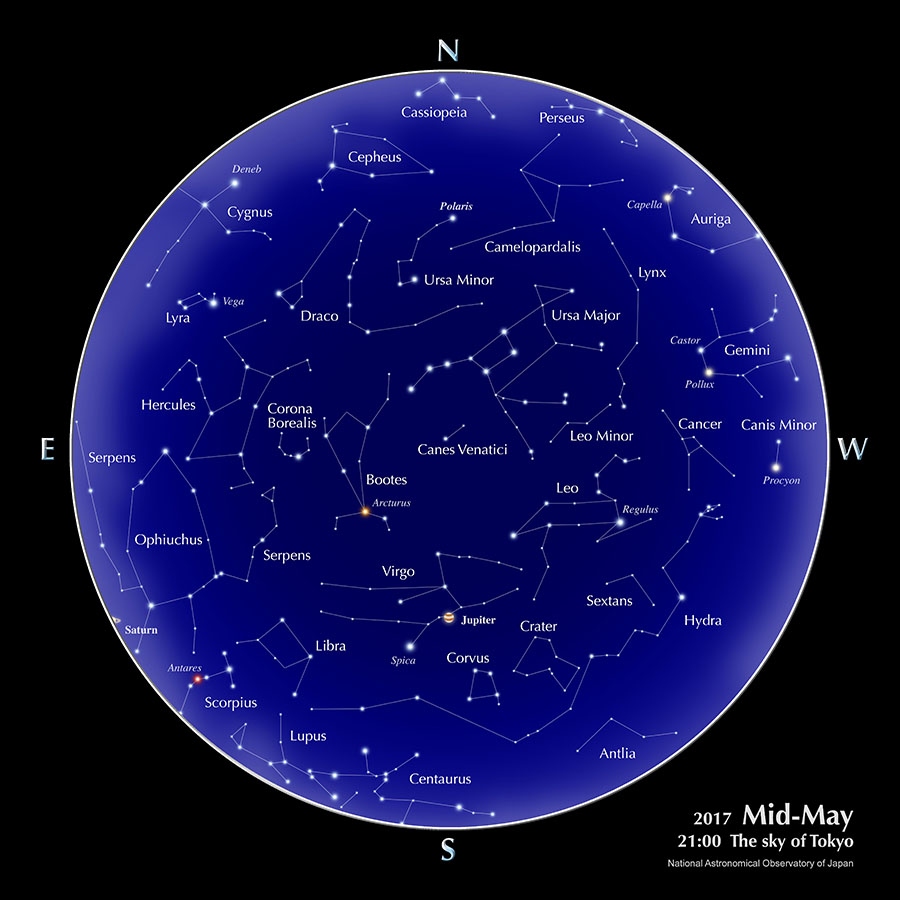 Calendar (May)
| | |
| --- | --- |
| 2 | Mercury at stationary point |
| 3 | First Quarter Moon / Constitution Memorial Day [Kenpou-Kinen-bi] (national holiday) |
| 4 | Greenery Day [Midori-no-hi] (national holiday) |
| 5 | Children's Day [Kodomo-no-hi] (national holiday) |
| 6 | η(Eta) Aquarid Meteor Shower peaks around this time (The best visibility will be before dawn for the 2~3 days around this date. About 5 meteors per hour are expected. Conditions are good after the Moon sets after Midnight.) |
| 11 | Full Moon |
| 18 | Greatest Western Elongation of Mercury |
| 19 | Last Quarter Moon |
| 26 | New Moon |
Planets
Mercury

Positioned low in the eastern sky just before sunrise, Mercury appears close to the Sun and is not suited for observation. Mercury reaches its greatest western elongation on the 18th, but its elevation is not even 10 degrees at 30 minutes before sunrise, making observation difficult.

Venus

Venus shines brightly low in the eastern sky before sunrise. Its brightness is -4.5 to -4.3 magnitude.

Mars

Mars is located in the constellation Taurus. It can be seen low in the western sky just after sunset, but it sets soon thereafter. At the end of the month, it is difficult to observe.

Jupiter

Located in the constellation Virgo, Jupiter can be seen in the southeastern to southern sky after sunset. Its brightness is -2.4 to -2.3 magnitude. May is still a good time to observe Jupiter.

Saturn

From the beginning to middle of the month, Saturn is located in the constellation Sagittarius, and moves slowly west. It moves into the constellation Ophiuchus in the last part of the month. It rises in the southeastern sky around 22:00 in the beginning of the month, and around 20:00 in the last part of the month as seen from Tokyo.Its brightness is 0.3 to 0.1 magnitude.
Source: Ephemeris Computation Office, NAOJ
With the "Sky Viewer" you can easily explore the appearance of a typical urban night sky (planets and constellations are visible). The Celestial Phenomena section of the glossary explains the planetary phenomena terms: greatest elongation, opposition, conjunction, stationary, etc.