The Moon Passing Close to Jupiter and Saturn Before Sunrise (February, 2017)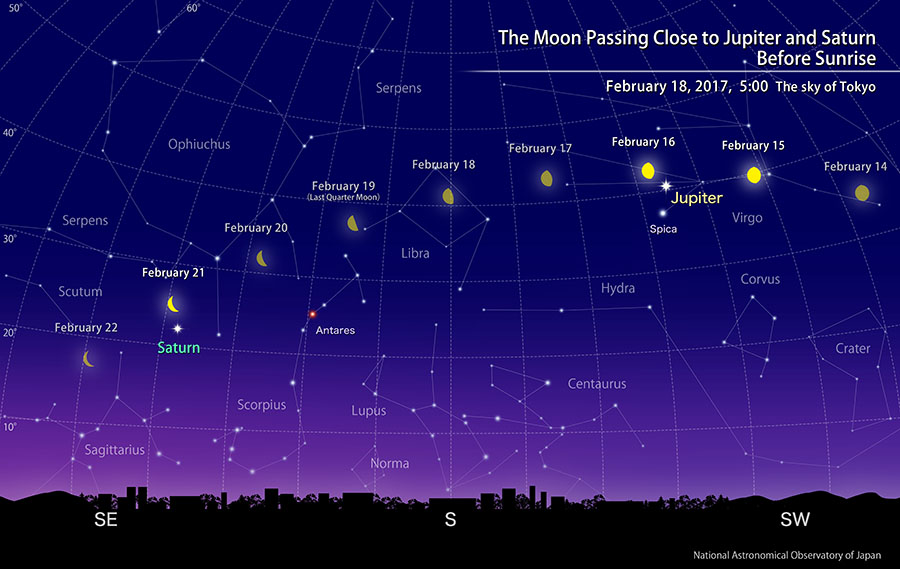 Let's Wake Up Early and See the Moon Pass Close to the Planets!
Before sunrise during mid-February, Jupiter can be seen high in the southern to southwestern sky and Saturn can be found low in the southeast. On 15th and 16th, the Moon, having passed full phase, can be seen close to Jupiter. Although the stars used in constellations are not easy to see in the moonlight, Jupiter which shines at -2.2 magnitude can be easily found. The 1st magnitude star Spica in the constellation Virgo shines close to Jupiter. As the days go by, the Moon becomes thinner and moves to the east, so Spica is easier to find.
The thin Moon having waned passed last quarter can be seen close to Saturn before sunrise on the 21st. How about waking up early to enjoy looking at the thin Moon that is close to 0.3 magnitude Saturn?