What is VLBI?
VLBI (Very Long Baseline Interferometry) is a method that combines observational data from multiple radio telescopes into a single observational datum. Combining the observational data from 20-m radio telescopes erected in four locations in Japan (Oshu City, Iwate Prefecture; Satsumasendai City, Kagoshima Prefecture; Ogasawara Village, Tokyo Metropolis; and Ishigaki City, Okinawa Prefecture), NAOJ formed VERA (VLBI Exploration of Radio Astrometry), an observation network with an effective diameter of 2300 kilometers, and is observing continuously with it. The four radio telescopes of VERA are remotely operated from Mizusawa Campus. These observed data are processed at the VLBI Correlator in Mizusawa Campus.
The Mizusawa 10-m antenna at Mizusawa Campus is used for VERA's performance evaluation, technology development, and collaborative observation with domestic VLBI stations. In addition, Mizusawa VLBI Observatory collaborates with other antennas and universities: the Yamaguchi 32-m antenna, Takahagi and Hitachi 32-m antennas, Gifu University's 11-m antenna, the National Institute of Information and Communications Technology's Kashima 34-m antenna, and Japan Aerospace Exploration Agency's (JAXA) Usuda 64-m antenna. Through these collaborations, we are promoting the Japanese VLBI Network (JVN).
We are promoting international collaboration with countries in East Asia. Observations combining VERA and three Korean VLBI Network (KVN) radio telescopes located in South Korea are ongoing (KaVA: KVN and VERA Array). Furthermore, we are working to complete the East Asia VLBI Network (EAVN) through cooperation with multiple Chinese telescopes such as in Shanghai, Urumqi, and Kunming, and also with a Thai telescope which is going to be built. To this end, we are investing in the Japan-Korea Joint VLBI Correlator at the Korea Astronomy and Space Science Institute. It is playing an important role as the main correlation center for VLBI observations in the East Asia region.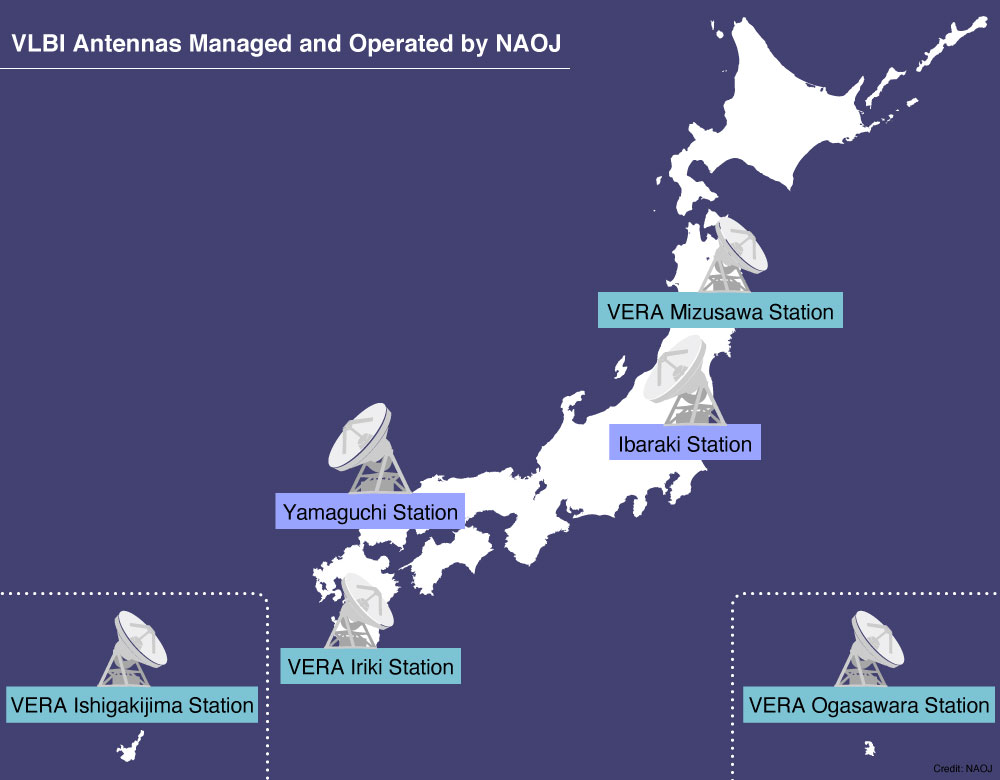 Research
We aim to measure the precise distances to masers, which are celestial bodies with very strong radio wave intensity, like lighthouses in space, to make a map of the entire Milky Way Galaxy and to measure its movement. We also promote research on high-precision observation of active galactic nuclei which exist in the centers of galaxies.
VERA receives dual beams with an angular difference of up to 2.2 degrees apart with one radio telescope to observe two celestial objects at the same time. In this way, VERA is the first radio telescope in the world to be able to correct for fluctuations in the radio wave propagation caused by the equipment and Earth's atmosphere and measures the precise positions of celestial bodies. We measure the position change of celestial bodies (annual parallax) caused by the Earth revolving around the Sun and measure the precise distances to the celestial bodies.
Specifications
VERA Mizusawa Station
| | |
| --- | --- |
| Location | NAOJ Mizusawa (Hoshigaoka, Mizusawa, Oshu, Iwate, Japan) |
| Prime manufacturer | Mitsubishi Electric Corporation |
| Aperture | 20 meters |
| Dual beam wavelengths | 22 gigahertz, 43 gigahertz |
VERA Iriki Station
| | |
| --- | --- |
| Location | Uranomyo, Iriki, Satsumasendai, Kagoshima, Japan |
| Prime manufacturer | Mitsubishi Electric Corporation |
| Aperture | 20 meters |
| Dual beam wavelengths | 22 gigahertz, 43 gigahertz |
VERA Ogasawara Station
| | |
| --- | --- |
| Location | Asahiyama, Chichijima, Ogasawara, Tokyo, Japan |
| Prime manufacturer | Mitsubishi Electric Corporation |
| Aperture | 20 meters |
| Dual beam wavelengths | 22 gigahertz, 43 gigahertz |
VERA Ishigakijima Station
| | |
| --- | --- |
| Location | Tonoshirotakeda, Ishigaki, Okinawa, Japan |
| Prime manufacturer | Mitsubishi Electric Corporation |
| Aperture | 20 meters |
| Dual beam wavelengths | 22 gigahertz, 43 gigahertz |
Mizusawa Station: Mizusawa 10-m Antenna
| | |
| --- | --- |
| Location | NAOJ Mizusawa (Hoshigaoka, Mizusawa, Oshu, Iwate, Japan) |
| Prime manufacturer | Mitsubishi Electric Corporation |
| Aperture | 10 meters |
Ibaraki Station: Takahagi 32-m Antenna
| | |
| --- | --- |
| Location | Kuretsubo, Ishitaki, Takahagi, Ibaraki, Japan |
| Prime manufacturer | Mitsubishi Electric Corporation |
| Aperture | 32 meters |
Ibaraki Station: Hitachi 32-m Antenna
| | |
| --- | --- |
| Location | Kakozawa, Ishi, Juo, Hitachi, Ibaraki, Japan |
| Prime manufacturer | Mitsubishi Electric Corporation |
| Aperture | 32 meters |
Yamaguchi Station
| | |
| --- | --- |
| Location | Nihonakago, Yamaguchi, Yamaguchi, Japan |
| Prime manufacturer | Mitsubishi Electric Corporation |
| Aperture | 32 meters |
History
| | |
| --- | --- |
| 1979 | Yamaguchi University's 32-m antenna constructed (used for satellite communications by KDDI) |
| 1992 | Mizusawa 10-m antenna constructed. |
| 1993 | Mizusawa 10-m antenna started operation. |
| 2001 | VERA Mizusawa 20-m antenna, VERA Ogasawara 20-m antenna, and VERA Iriki 20-m antenna were constructed. |
| 2002 | Yamaguchi University's 32-m antenna was placed under the control of NAOJ and started operation as a radio telescope. |
| 2002 | VERA Ishigakijima 20-m antenna was constructed. |
| 2009 | Ibaraki Hitachi 32-m antenna was placed under the control of NAOJ and started operation as a radio telescope. |
| 2010 | Ibaraki Takahagi 32-m antenna was placed under the control of NAOJ and started operation as a radio telescope. |