Two Researchers in the Division of Theoretical Astronomy Receive Awards from the Inoue Foundation for Science
| Topics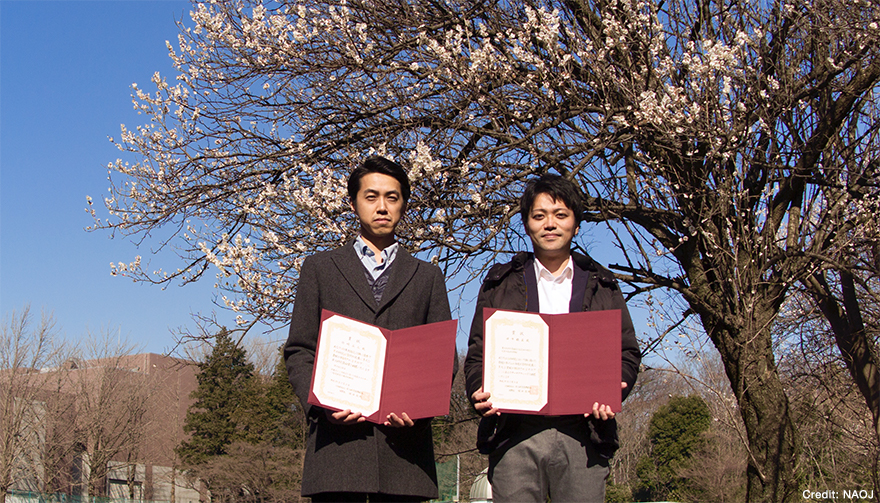 Two researchers in the Division of Theoretical Astronomy, National Astronomical Observatory of Japan, received awards from the Inoue Foundation for Science. The objectives of these awards are to encourage science researchers and to support research grants. The awards ceremony was held on February 3, 2017.
The 33rd Inoue Research Award for Young Scientists

Dr. Masato Shirasaki (JSPS Postdoctoral Fellow)
Doctoral thesis: "Probing Cosmic Dark Matter and Dark Energy with Weak Gravitational Lensing Statistics"

The 9th Inoue Science Research Award

Dr. Masaomi Tanaka (Assistant Professor at Graduate University for Advanced Studies(SOKENDAI), Department of Astronomical Science)
Research subject: "Identifying Electromagnetic Counterparts of Gravitational Wave Sources and Understanding the Origin of the Elements"
The Inoue Research Award for Young Scientists is awarded to researchers who submitted an excellent doctoral thesis within the past three years. Moreover, they have to be under the age of 37 and hold a doctor's degree in a field such as science, medicine, pharmacology, engineering, or agriculture. The Inoue Science Research Award aims to support the creativity and independence of young researchers who have displayed outstanding achievements in fundamental research in natural science, and aim to pioneer developments. It is awarded to researchers who received their doctor's degrees within the last nine years.
Link