Announcement of Holding Mitaka Open House Day 2019
| Events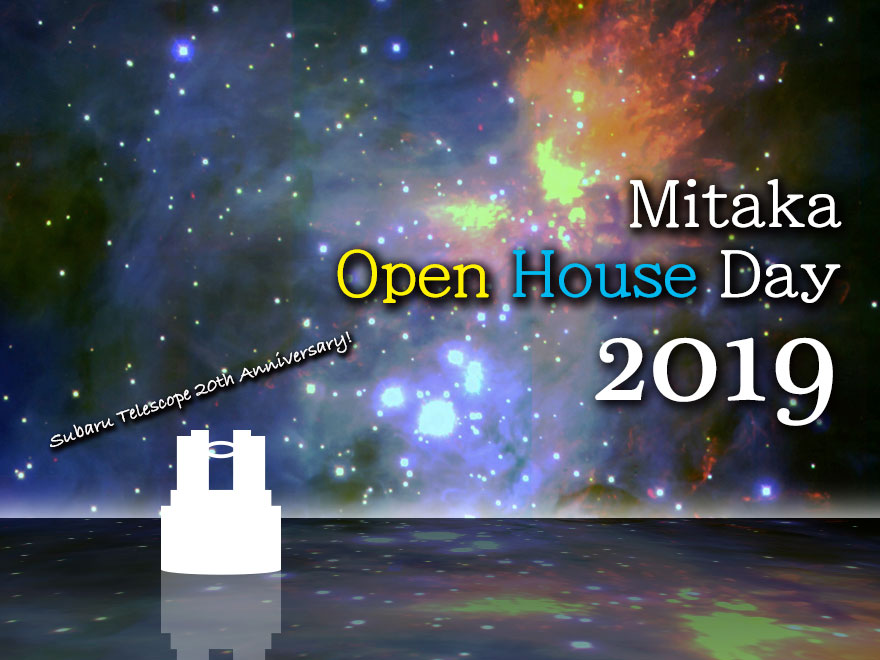 Mitaka Open House Day 2019 will be held on Oct. 25 and 26, 2019.
This annual open house showcases 4 institutes: the National Astronomical Observatory of Japan; the Astrobiology Center; the Institute of Astronomy, University of Tokyo; and the Department of Astronomical Science, School of Physical Sciences, the Graduate University for Advanced Studies (SOKENDAI).
There are many fun events, such as, public viewing of the research facilities, exhibitions, lectures, and so on. Stargazing parties will be held at the Sports Field, and exhibitors will offer goods for sale. In addition, the Mitaka Picture Book House in the Astronomical Observatory Forest will offer exhibitions. Let's enjoy the Mitaka Open House at the Mitaka Campus surrounded by nature.
Summary
Date

Oct. 25, 2019 (Fri.) 2 p.m. - 7 p.m. [Pre-open day]
(Admission is until 6 p.m.)
Oct. 26, 2019 (Sat.) 10 a.m. - 7 p.m.
(Admission is until 6 p.m.)

Location

National Astronomical Observatory of Japan Mitaka campus
Institute of Astronomy, the University of Tokyo (next to NAOJ Mitaka campus)
Mitaka Picture Book House in the Astronomical Observatory Forest (next to NAOJ Mitaka campus)
For more detail information, please look at the special site
Mitaka Open House Day 2019 Special Site
Links