Silhouette of the Meridian Circle Building Over the Autumn Carpet
Photo・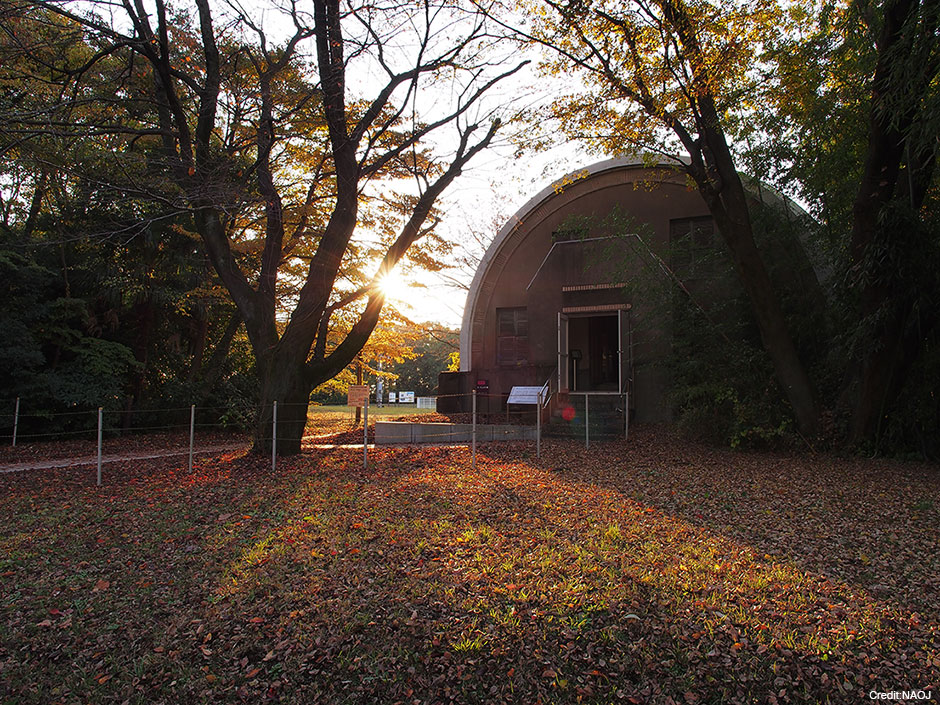 After the autumn equinox has passed, the place where the Sun sets moves from due west towards the south, little by little each day, reaching its southernmost point on the winter solstice. From ancient times, human beings have observed the movement of heavenly bodies, such as the Sun, and used them as indices for determining time and direction. As the Sun goes down, the half-circle silhouette of a building can be seen. This is the "Gautier Meridian Circle Building." It was used for observing the precise positions of heavenly bodies. This was meaningful for determining the standard time and for geodetic surveys. NAOJ Mitaka Campus has many trees. Looking at the ground of the campus, you can see red and yellow fallen leaves among the green grass. The color of the ground has turned to autumn hues.
Gautier Meridian Circle Building
The Gautier Meridian Circle Building was built in 1924 (Year 13 of the Taisho Era). The half-circle shaped dome has a mechanism to slide open and closed. Researchers observed objects transiting the meridian by opening the north-south aligned slit. Inside the building, there is a meridian circle which was manufactured by Gautier in France. It was used to observe the positions of stars, the Moon, and planets by eye until a new photoelectric meridian circle started operation at Mitaka in 1983 (Showa Era Year 58). After this it ceased operation for a time, but with a modern CCD micrometer installed it returned to operation for about 10 years starting from 1992 (Heisei Era Year 4). It observed the positions of faint objects such as quasars. It supported the precise mapping of the Universe for a long time, until the mainstream of astrometry changed to VLBI's and satellites. In 2014, the Gautier Meridian Circle was registered as a tangible cultural property of Japan. You can see inside, so please come and visit.
(Translator's Note: In addition to the standard Gregorian Calendar, Japan continues to use a reign era calendar. The different eras are defined by changes in the Japanese government, and accompanied by changes in Japanese society.)
Text by: Seiichiro Naito (Public Relations Center, NAOJ)
Translation by: Hiroko Tsuzuki and Ramsey Lundock (Public Relations Center, NAOJ)
Image Data
| | |
| --- | --- |
| Date | November 25, 2012 |
| Photographer | Yutaka Iijima |
| Credit | National Astronomical Observatory of Japan |
| Terms of Use | This image can be used without permission for research presentations, conferences, and school classes. In other cases, it cannot be used without prior permission. If you would like to use it, please fill out an application. In the case of commercial use, a photograph usage fee might need to be negotiated with the photographer, Mr. Yutaka Iijima. |
Downloads
Related Links