The Winter Constellations Departing Through a Bare Grove, the Start of Spring
Night Scape Photograph・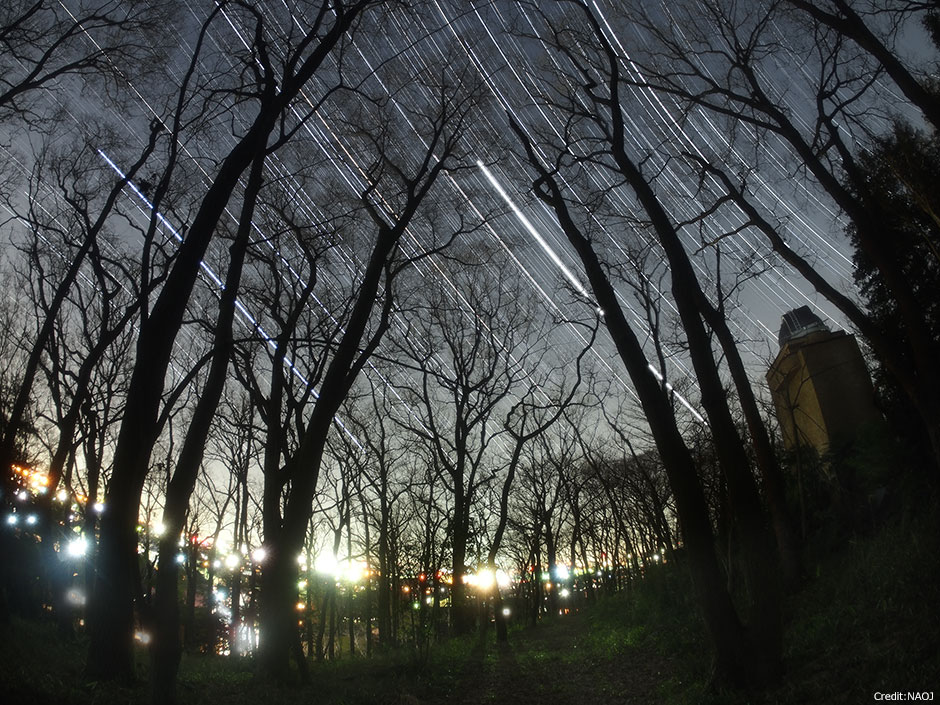 The night grows late; NAOJ Mitaka Campus is quiet without any signs of people. Even the Solar Tower Telescope, which in years past captured the light from the Sun to study mysteries revealed by Einstein, now sleeps peacefully. It feels a world away from the Mitaka Campus where lush plants grow densely in the luxuriant summer. But when the barren winter season comes and the leaves have fallen from the branches, the commanding view visible through the bare trees, reminds you that Mitaka Campus is positioned on the high ground of the Kokubunji Cliff Line. In this picture, the winter stars arc down over the people sleeping in the twinkling city.
From Winter to Spring, Stars Signal the Passage of Time
The object tracing the particularly bright track in the center is Jupiter. This bright planet, which takes approximately 12 years to move around the Zodiac, was used to count the years in the ancient Chinese calendar. This tradition is remembered today in the 12 animals of the Chinese Zodiac. At this time, Jupiter was moving through the Constellation Taurus. To the immediate left of Jupiter, the 1st magnitude star Aldebaran shines as the 'Eye of the Bull.' On the left side of the image, the bright white track in the south-western sky is drawn by Sirius in the constellation Canis Major. Between these two, the largest planet in the Solar System and the brightest star in the sky, is painted the distinct constellation of Orion, which weaves its way down through the tree branches.
The season is around the beginning of spring. In the luni-solar calendar the New Year starts from the beginning of spring. The air is still biting cold but as the winter constellations slide down into the west, the night sky chronicles the passage of time.
Text by: Seiichiro Naito (Public Relations Center, NAOJ)
Translation by: Ramsey Lundock (Public Relations Center, NAOJ)
Image Data
| | |
| --- | --- |
| Camera | Olympus OM-D E-M5 |
| Date | February 5, 2013 |
| Photographer | Yutaka Iijima |
| Credit | National Astronomical Observatory of Japan |
| Terms of Use | This image can be used without permission for research presentations, conferences, and school classes. In other cases, it cannot be used without prior permission. If you would like to use it, please fill out an application. In the case of commercial use, a photograph usage fee might need to be negotiated with the photographer, Mr. Yutaka Iijima. |
Download
Related Links