Visitor Guidelines Regarding COVID-19
Outdoor spaces, the 20-cm Telescope Dome, the Repsold Transit Instrument Building, and the Gautier Meridian Circle Building are now open to the public again. The Observatory History Museum, the Exhibition Room, the Astronomical Instruments Museum, and the Resting Room are still continued to be closed. We ask for your cooperation in preventing the spread of the novel coronavirus. When a weather warning is issued, Mitaka Campus will be closed to the public. Please refrain from visiting in bad weather even when no warning is issued.
・If you have had a close contact with a suspected or confirmed case of COVID-19, please refrain from visiting.
・Be sure to measure your body temperature before you visit. If you have cold-like symptoms such as a cough or fever (above 37.5℃ or 99.5℉), or have any other unusual symptoms, please refrain from visiting.
・Visit as an individual or a small group. We are not offering group tours until further notice.
・Measure your body temperature at the Guard House and leave your contact information. ・Wear a mask during your visit. When removing your mask, ensure there is enough distance between other visitors and follow proper cough etiquette.
・Eating and drinking are prohibited on campus except for hydration.
・The information above is subject to change without prior notice. Please check the latest updates.
About
Opening hours

The open hour is 10:00 am to 5:00 pm (the admission is until 4:30 pm ).

How to Join

No reservations required. Please sign in at the Guard House.

Saturday / Sunday, national holidays, during summer vacation / spring vacation period

There are Solar Observation Day at 20-cm Telescope Dome.
Solar Observation Day

Wi-Fi

Free Wi-Fi is available.

Audio Guide

Visitors can access the audio guide to our facilities via their smartphone or tablet pc.

Others

Admission free. There are free bicycle parking and toll parking.
NAOJ Mitaka Campus Guidebook is available in English, Japanese, Chinese, Korean, and Spanish. Ask at the Gate House.
Visitors' Area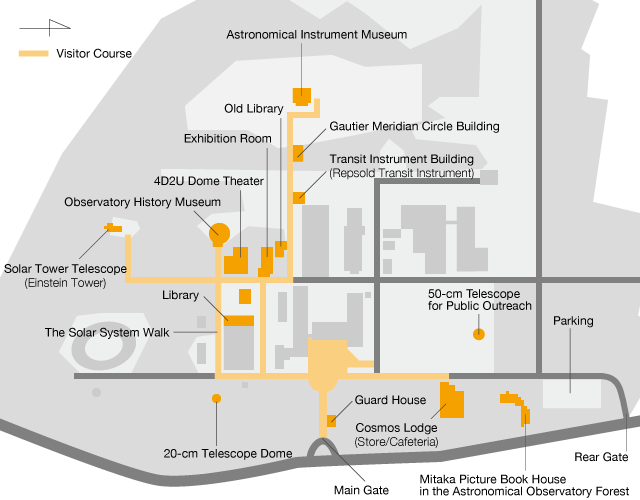 Download
Campus Map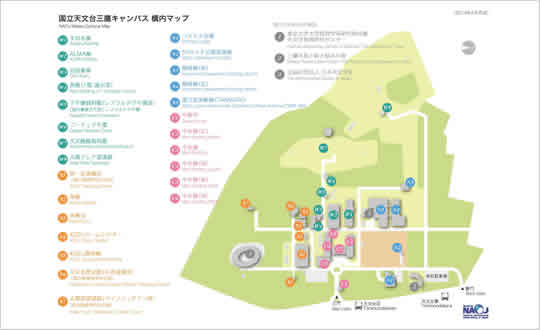 For your safety and smile
Please not to enter the areas and facilities that are not opened for public. Be careful mosquitoes, bees, snakes and etc.
The National Astronomical Observatory of Japan is a research institute. Please not to come to the open course in the campus with pets. Assistance dogs (service dog, guide dog, and so on) are allowed in the campus.
Please use resting room or outdoor bench to eating and drinking. During lunch time, you can use cafeteria of the University of Tokyo CO-OP NAOJ branch.
Please take all your garbage back home with you. Thank you for your cooperation.
Smoking is prohibited inside the campus except smoking area.
National Astronomical Observatory of Japan is working on conservation vegetation. Let's keep the rich nature in the campus.
Mitaka Picture Book House in the Astronomical Observatory Forest
In Mitaka campus, there is the Mitaka Picture Book House in the Astronomical Observatory Forest that is utilized of old lodgment of NAOJ.
Opening hours

10:00 a.m. to 5:00 p.m. (Closed : Tuesday, year-end and New Year holidays.)

Website

Mitaka Picture Book House in the Astronomical Observatory Forest

*There is no English visitor guide page in the site.*