Regarding the preventive actions of the novel coronavirus (February 21, 2020)
The regular events at NAOJ Mitaka Campus, such as public visits, Stargazing Parties and the 4D2U Dome Theater, may be canceled because of the ongoing coronavirus concerns. For the latest information regarding these events, see our website or SNS. For those who plan to visit Mitaka Campus, please note the following points:
・If you have, or think you may have, had close contact with someone infected with COVID-19, please refrain from visiting Mitaka Campus.
・In case you have cold-like symptoms, please refrain from visiting Mitaka Campus.
・Take appropriate preventive actions, such as washing your hands with soap and wearing a mask, to protect yourself from the infection.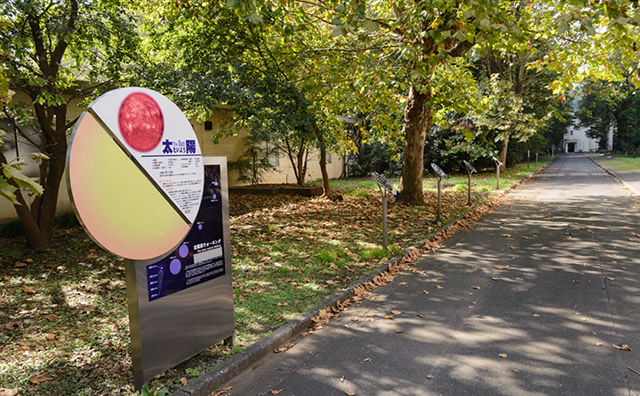 At the Solar System Walk, each planet is introduced with condensing the solar system to one-14 billionth of its actual size.
For example, the distance from the sun to Saturn is actually 1.4 billion km, and it takes 40 thousand year by walk. However, at this exhibit that is reduced to one-14 billionth of the actual size, it is just 100 m. It takes several minutes. If one step measures about 50 cm, this means Saturn is 200 steps away. But, the one step would equal to 7 million km.
Visitors can learn the characteristics of each planet while feeling the distance between the planets at this course.