6-m Millimeter-Wave Radio Telescope
The First Millimeter-Wave Radio Telescope in Japan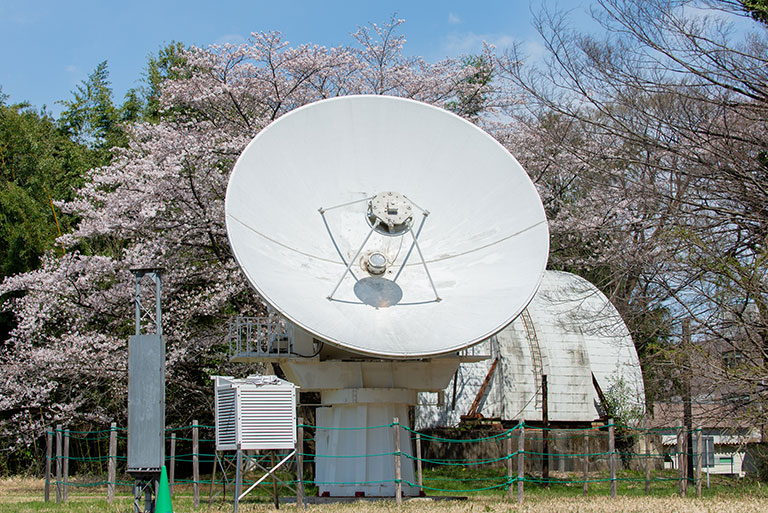 This telescope was built in 1970 in Mitaka Campus by Tokyo Astronomical Observatory (predecessor of NAOJ); it was the third millimeter-wave radio telescope in the world and the first in Japan. The scientists and engineers of the day completed this radio telescope after a repeated process of trial and error. Despite its relatively small dish, 6 m (19.7 foot) in diameter, this telescope delivered groundbreaking results, supporting the earliest days of Japanese radio astronomy. Its achievements include detection of new interstellar molecules and observations of the distribution of interstellar molecules in the Orion Nebula and the central region of the Milky Way Galaxy.
The technologies developed for this telescope were later incorporated into the Nobeyama 45-m Radio Telescope, the largest and most powerful millimeter-wave radio telescope at the time of its completion in 1982. A number of scientific results generated by the 45-m Radio Telescope facilitated observational studies with the Atacama Large Millimeter/submillimeter Array (ALMA) in Chile, leading to the rapid progress of current radio astronomy.
After the national center of radio astronomy observations moved to Nobeyema, the 6-m Millimeter-Wave Radio Telescope ceased operations in Mitaka and was relocated to Mizusawa Campus, and then to Nobeyama Campus, contributing to VLBI observations. After that, the telescope was relocated again, this time to Kinkowan Park, Kagoshima Prefecture, and was involved in observational studies led by Kagoshima University as part of a VLBI network. Following the end of operations in Kagoshima, the telescope returned to Mitaka, and since October 2018 has been preserved and exhibited in the visitors' area of Mitaka Campus as an important historical monument that highlights the progress of Japanese radio astronomy.
This telescope was added to the 2019 (second) Japan Astronomical Heritage list in September 2020.
About
6-m Millimeter-Wave Radio Telescope

| | |
| --- | --- |
| Dish Diameter | 6 m (19.7 ft) |
| Surface Error | 0.14 mm (0.0055 in) |
| Dish Manufacturer | Kamakura Works, Mitsubishi Electric Corporation |
| Mount Manufacturer | Norizuki Iron Works (now known as Norizuki Technical Factory) |
| Main Purpose | Millimeter wave observations of new interstellar molecules, distribution observations of interstellar molecules, observations of master fluctuations, and VLBI observations |
| Status | 2019 Japan Astronomical Heritage asset |
Brief history
1968
(Showa Year 43)
Construction started in Mitaka Campus
1970
(Showa Year 45)
Completed in Mitaka Campus
1988
(Showa Year 63)
Relocated to Mizusawa Astrogeodynamics Observatory (predecessor of Mizusawa VLBI Observatory), Iwate Prefecture
1989
(Heisei Year 1)
Relocated to Nobeyama Radio Observatory, Nagano Prefecture
1992
(Heisei Year 4)
Relocated to Kinkowan Park, Kagoshima Prefecture
2018
(Heisei Year 30)
Relocated to Mitaka Campus and preserved and exhibited in the visitors' area