Astrophysicist Yoshio Fujita Passes Away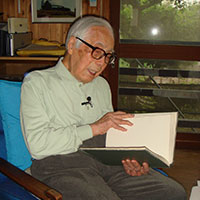 Professor Yoshio Fujita, a one-time President of the Japan Academy, passed away due to heart failure on January 9, 2013, aged 104.
Professor Fujita is world authority on studies on low temperature stars. His researches based on spectroscopic observations of low temperature stars were appreciated, with the result that he was awarded the Imperial prize of the Japan Academy.
Prof. Fujita was born in Fukui City, Fukui Prefecture in 1908. After graduation of Department of Astronomy, Physics Division, Tokyo Imperial University (present University of Tokyo) in 1931, he hold successively an assistant professor and an professor of Physics Division. He also worked as the board chairperson of the Japan Astronomical Society, the President of the Japan Academy, and so on. In 1996, he was selected as Persons of Cultural Merit in 1996.
We respectfully offer our condolences.
January 15, 2013
Brief Personal History
1931
Graduate of Tokyo Imperial University (present University of Tokyo)
Assistant Professor of Tokyo Observatory, Tokyo Imperial University
1939
Ph.D. Tokyo Imperial University
1943
Technical Expert at Tokyo Observatory
1948
Associated Professor at the University of Tokyo
1951
Professor at the University of Tokyo, Professor at Tokyo Observatory
1955
Wining the Imperial prize of the Japan Academy for his research on "Spectroscopic Studies of Low Temperature Stars"
1957
Chairperson of Astrophysics Subcommittee of Committee on Astronomical Research Correspondence, Science Council of Japan
1961
Administrative director of the Astronomical Society of Japan
1965
Elected to the Member of the Japan Academy
1969
Retire Professor at the University of Tokyo (by Retirement Age System)
Professor Emeritus at the University of Tokyo
1971
Received the Cultural and Encouragement Prize from Fukui City
1979
Honorary Citizen of Fukui City
1984
Honorary Member of American Astronomical Society
1986
Lifetime Member of the Royal Astronomical Society
1994
President of the Japan Academy
1996
Person of Cultural Merit
1997
President of the Japan Academy (Re-election)
1999
Utakai Hajime (New Year's Poetry Reading) As Professional Poets
2002
Fukui Prefectural Prize
2012
Honorary Member of National Academy of sciences, Republic of Korea