Dr. Reinhard Genzel, 2020 Nobel Laureate in Physics, Dr. Karl Schuster, Director of the IRAM, and their delegation visit the NAOJ
| Topics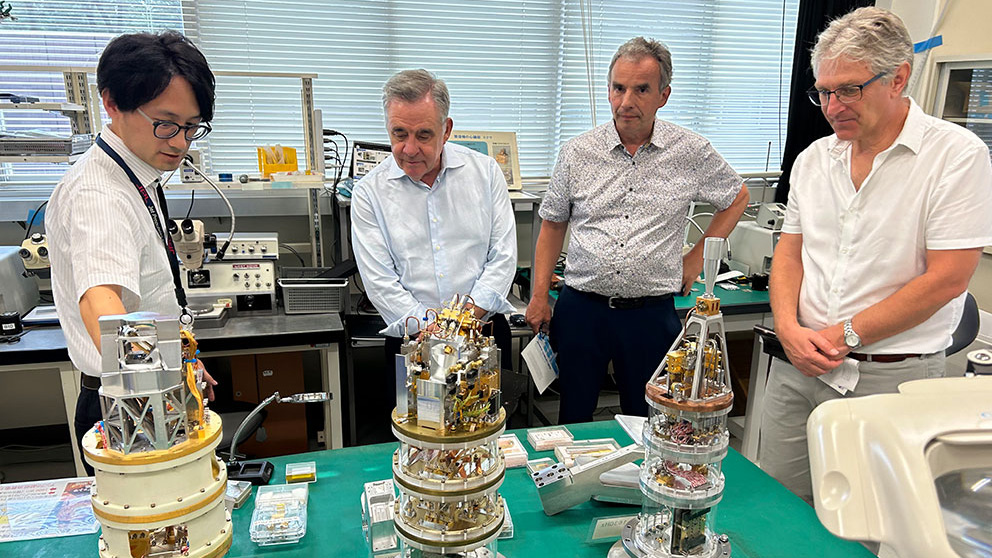 Dr. Karl Schuster, Director of the Institut de radioastronomie millimétrique (IRAM), headquartered in France, and Dr. Reinhard Genzel, Dr. Martin Giard and Dr. Rafael Bachiller, as a delegation of the IRAM Steering Committee, visited the National Astronomical Observatory of Japan from 18th to 20th July 2023.
IRAM operates NOEMA, the most advanced millimeter-wave interferometer in the Northern Hemisphere, and the 30-meter radio telescope, and is a core facility for radio astronomy in Europe. During the visit, the IRAM delegation and the NAOJ leadership held meetings to exchange views and discuss how to promote future scientific research collaboration and technical cooperation between the two organizations. In between active discussions, the IRAM delegation was given a tour of NAOJ's facilities. The visit was very meaningful for both sides.
Dr. Genzel, the recipient of the 2020 Nobel Prize in Physics, gave a lecture on his research at the NAOJ Colloquium. An audience of nearly 200 people from within and outside of NAOJ gathered for a lively discussion following his talk, in which he fielded questions from numerous researchers, including those of the younger generation.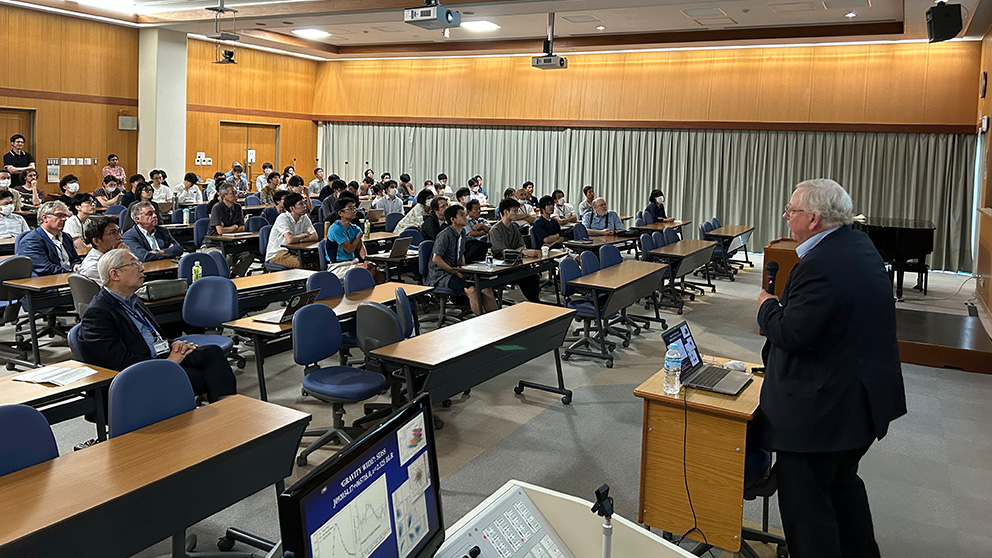 Furthermore, Dr. Genzel, accompanied by Dr. Saku Tsuneta, Director General of NAOJ, paid courtesy visits to Mr. Koichi Hagiuda (Chairman of the Policy Research Committee of the Liberal Democratic Party), who had delivered a congratulatory message as the Minister of Education, Culture, Sports, Science and Technology at the time of the award of the Nobel Prize, and Ms. Keiko Nagaoka (current Minister of Education, Culture, Sports, Science and Technology) respectively, where he was once again congratulated for his outstanding achievements.
Mr. Hagiuda and Ms. Nagaoka fully agreed with Dr. Genzel's point of view regarding the importance of international joint research and personnel exchange. Mr. Hagiuda went further to express his hopes that more research personnel could be trained in the future, as Japan's younger generation has recently become more interested in space science. Ms. Nagaoka expressed her expectations in the hope that Dr. Genzel will continue to deepen his cooperation with NAOJ and foster talented researchers who will follow in his footsteps.