NAOJ and NDU Sign MOU for Research and Academic Collaboration
| Topics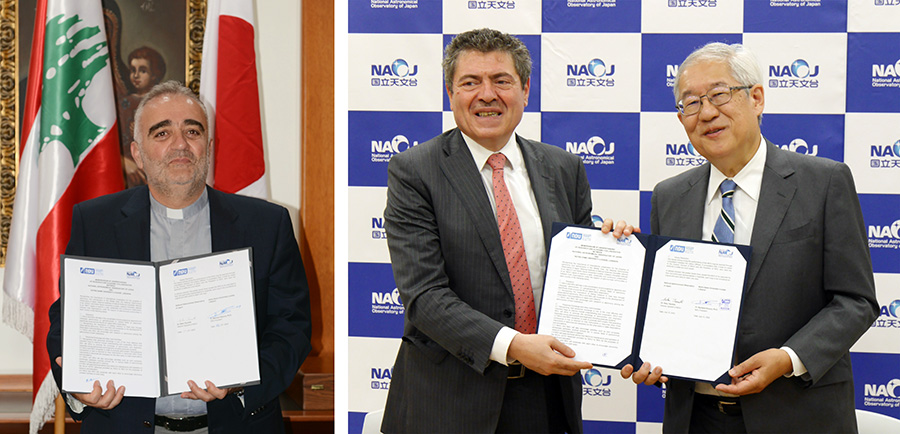 On July 12th, 2022, the National Astronomical Observatory of Japan (NAOJ) and the Notre Dame University-Louaize (NDU) in the Republic of Lebanon signed a Memorandum of Understanding for Research and Academic Collaboration (MOU). The signing ceremony was held online between Japan and Lebanon, where Dr. Saku Tsuneta, Director General of NAOJ, and Fr. Bechara Khoury, President of NDU, attended to conclude the MOU. Also in attendance were distinguished guests, including H. E. Mr. Nidal Yahya, Ambassador of the Lebanese Embassy in Tokyo.
In June 2014, NAOJ and NDU signed their first memorandum of understanding on research cooperation. Based on this agreement, the 60 cm telescope, having been used at the Kochi Geisei Observatory and handed over from Kochi Prefecture to NAOJ, was provided to NDU for instalment in the new observatory to be built in Lebanon. Once installed, the telescope is expected to be used for joint research among Japanese and Lebanese researchers through observations of transient celestial bodies, asteroids, and variable objects.
Under the new MOU, NAOJ and NDU confirm their willingness to continue their cooperative relationship. NDU's new observatory is currently under preparation for construction and, when completed, will be the highest astronomical observatory in the Arab Middle East. Both institutions are confident that it will be an ideal site for installing the telescope, which will undoubtedly be put to great use in the near future.
The MOU is expected to serve as a basis for further cooperation between Japan and Lebanon in the field of astronomical research.