Kilonova Research Wins 2019 PASJ Excellent Paper Award
| Topics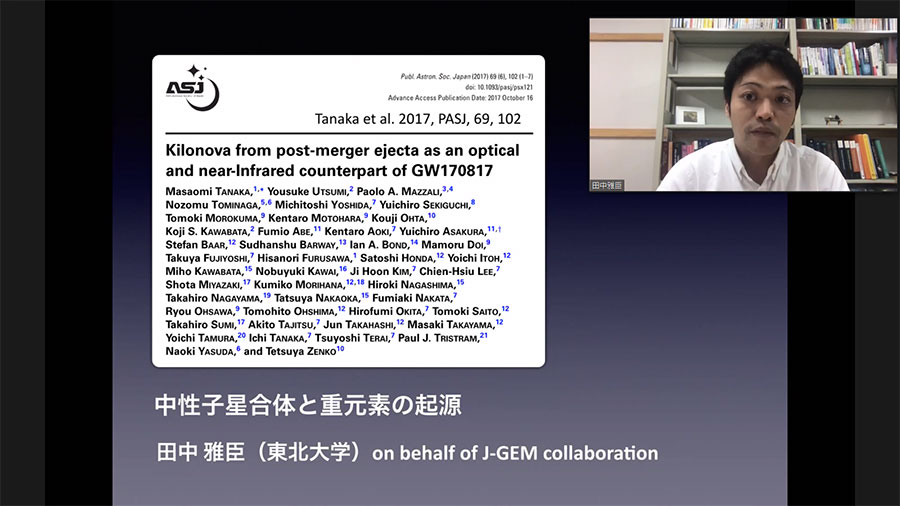 A research paper identifying massive explosions known as kilonovae as sources of heavy elements, received the 2019 PASJ Excellent Paper Award. This award recognizes the paper as pivotal in the development of our understanding of the chemical evolution of the Universe through a combination of multi-messenger and computational astrophysics.
On August 17, 2017, the first ever gravitational wave originating from a neutron star merger was observed, and electromagnetic radiation called a "kilonova" was detected from its source, GW170817. A kilonova is a phenomenon in which elements heavier than iron are formed in the material ejected from a neutron star merger and emit electromagnetic waves due to their radioactive decay. Associate Professor Masaomi Tanaka of the Division of Theoretical Astronomy/Center for Computational Astrophysics of NAOJ (now at Tohoku University), the lead author of this paper, used NAOJ's supercomputer ATERUI to simulate the evolution of the luminosity of a kilonova, and compared it with the luminosity data of GW170817 observed by the Subaru Telescope and IRSF. As a result, it was found that more than 10,000 times the mass of the Earth in heavy elements was produced by this neutron star merger.
The Tanaka et al. paper "Kilonova from post-merger ejecta as an optical and near-Infrared counterpart of GW170817" utilized and advanced multi-messenger astronomy using gravitational waves and electromagnetic waves, and computational astrophysics using a supercomputer. The high academic significance of this paper earned it the 2019 PASJ Excellent Paper Award. This award is given to the author(s) of the most outstanding and inventive paper(s) published by the Publications of the Astronomical Society of Japan (PASJ) during the past 5 years.
Tanaka says, "On behalf of all the co-authors of the paper, I would like to thank you for this prestigious award. This paper is the result of the work of many people. After the publication of this paper, gravitational waves from neutron star coalescence were detected, and there are more and more opportunities to find out what is happening in the extreme conditions of neutron star mergers and where the heavy elements in the Universe came from. Please look forward to the future developments."
Tanaka gave a lecture in acceptance of the award on September 9 at the annual autumn meeting of the Astronomical Society of Japan (held online).
Related Links