NAOJ Researchers Win 2020 MEXT Commendation for Science and Technology
| Topics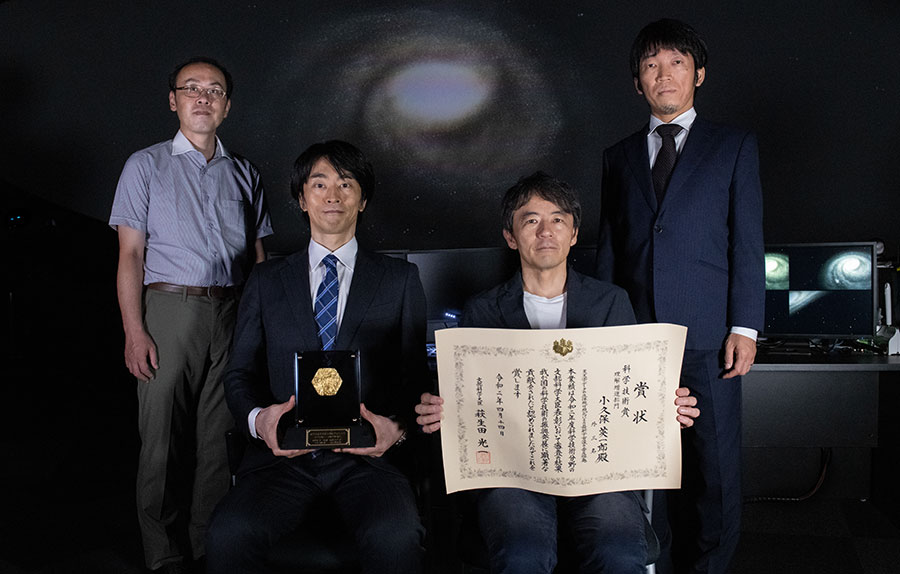 Four members of the NAOJ Four-Dimensional Digital Universe (4D2U) Project have received the Award for Science and Technology (Public Understanding Promotion Category) of the 2020 Commendations for Science and Technology by the Minister of Education, Culture, Sports, Science and Technology (MEXT). The award winners are: Eiichiro Kokubo (Professor in the Center for Computational Astrophysics, CfCA), Tsunehiko Kato (Senior Specialist in CfCA), Hirotaka Nakayama (Research Expert in CfCA), and Takaaki Takeda (Public Outreach Official in the Public Relations Center). This award recognizes their contribution to "promoting public awareness of the latest views of the Universe through stereoscopic visualization of astronomy data."
The 4D2U Project started in 2001 aiming to visualize the four-dimensional Universe consisting of three spatial dimensions and one temporal dimension. It allows us to see the Universe in action by converting the latest astronomical data obtained from observations and simulations into scientifically accurate 3D visualizations.
This project has so far not only created dozens of stereoscopic animations, but also developed the four-dimensional digital universe viewer "Mitaka" and simulation visualization software, all of which are freely available at the project website. These visualizations, which promote intuitive understanding of current astronomy, are broadly used not only in educational institutions such as science museums, planetariums, and schools, but also in arts and entertainment settings.
"This project originated nearly 20 years ago from our desire as astronomers to see the Universe with our own eyes," says Kokubo, who leads the 4D2U Project. "I have worked with many colleagues, not only those who share in this award. I am very happy to have been able to advance the project together with such talented members."
"We started the conceptual development of 'Mitaka' in 2003 and have been upgrading it ever since then to visualize the latest models of the Universe," says Tsunehiko Kato, who is responsible for the development of Mitaka. "I am very pleased that so many people are using this software and I feel honored to win this award. I sincerely appreciate everyone involved."
"I am so glad and grateful to be a part of this project with so much wonderful talent," says Nakayama, who is responsible for creating visualizations. "I would like to keep doing my best in depicting the Universe, not only scientifically accurately but also visually strikingly, while incorporating new technologies and representations."
"I create movies mainly from simulations," said Takeda, who is responsible for the visualization of simulations and the development of the visualization software. "I have been trying to depict the dynamics and subtle nuances of movement that can be intuitively grasped only through visualizing the simulation results. I would like to thank the many people who have supported this project."
In addition, in the same batch of commendations, the Young Scientists' Award went to Kazunori Akiyama, a Research Affiliate at NAOJ Mizusawa VLBI Observatory who also serves as a Jansky Fellow at the National Radio Astronomy Observatory (NRAO) in the U.S.A. He received this award for his "research on image analysis for the M87 black hole shadow imaging."
In April 2019, the international collaboration Event Horizon Telescope (EHT), which links multiple radio telescopes across the globe to form a single huge observatory, released the image of the black hole shadow in the elliptical galaxy M87, attracting worldwide attention. Akiyama was particularly devoted to the research of techniques to convert observational data into images and the development of imaging software, aiming to achieve the first-ever imaging of a black hole shadow. His work contributed significantly to the EHT breakthrough.
These commendations are intended to encourage scientists and engineers by recognizing and honoring those who have achieved important successes in research and development or public understanding in science and technology.
Related Links