Dr. Mitsuru Soma Wins Homer F. DaBoll Award
| Topics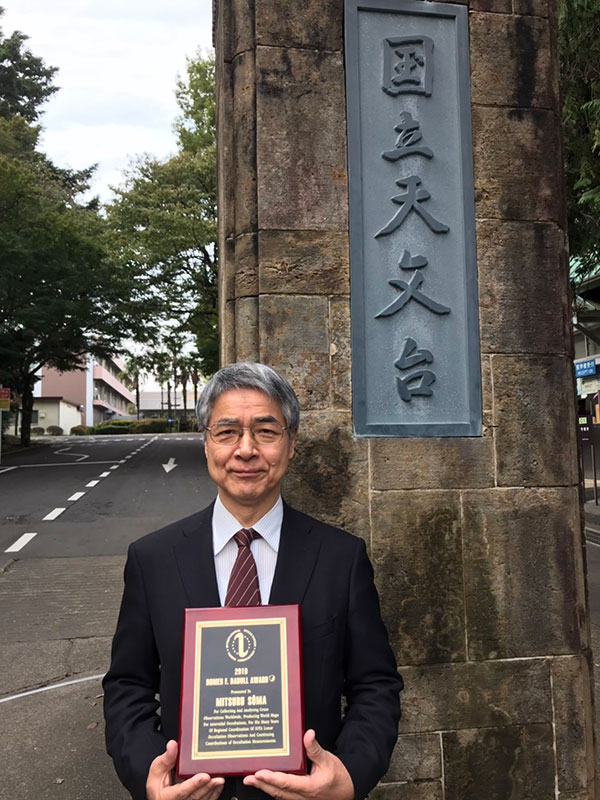 Dr. Mitsuru Soma, an assistant professor in the Division of Science at the National Astronomical Observatory of Japan (NAOJ) has won the 2019 Homer F. DaBoll Award presented by the International Occultation Timing Association (IOTA).
Dr. Soma has been studying stellar occultations caused by the Moon (specifically called lunar occultations) to identify systematic errors between stellar coordinate systems (stellar and dynamical reference frames). Additionally, to more deeply analyze occultations, he is engaged in determining the lunar limb profiles as well. His interests also include predictions of stellar occultations caused by asteroids or planetary moons, and mutual occultations of planetary moons. Among his many contributions, he is particularly well-known worldwide for creating a map that predicts where on Earth you can observe stellar occultations caused by asteroids.
This year's award recognizes his outstanding achievements including the creation of such a prediction map and occultation observation data collection and analysis. According to IOTA's tradition, Dr. Soma was not eligible to be a recipient because he has long served as IOTA Vice President for Grazing Occultation Services. However, this time, IOTA broke that tradition and named him as a recipient.
The recipients were announced in September 2019 at the IOTA Annual Meeting.
Related Link