Full NAOJ Mitaka Campus Audio Guide Now Available
| Topics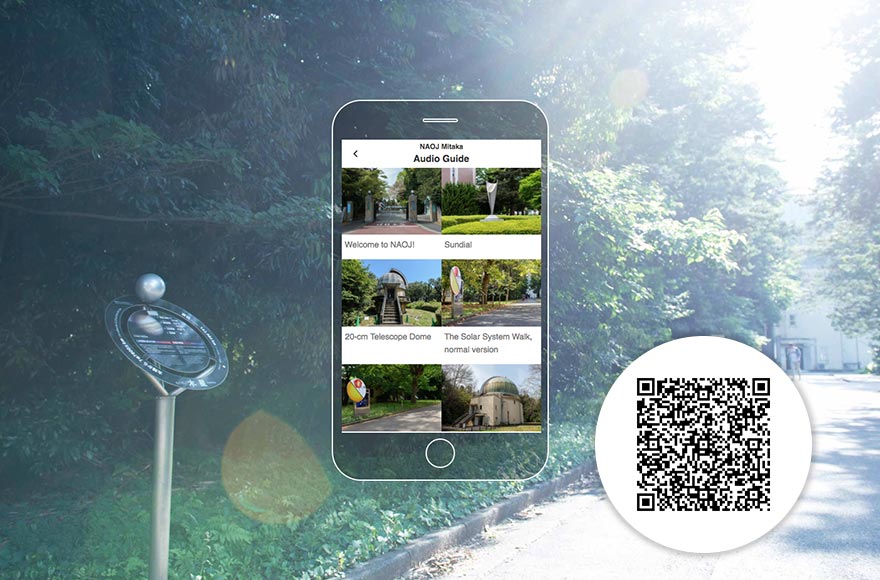 The full audio guide is now available in the NAOJ Mitaka Campus Visitors' Area. Visitors can scan two-dimensional barcodes with their smartphones or tablets to access the audio guide website.
The NAOJ Mitaka Campus Visitors' Area is open daily to the public, except during the New Year's Season. NAOJ welcomes diverse visitors such as visually-impaired people and non-Japanese-speakers. When they sign in at the Gate House, visitors can receive their preferred version of the NAOJ Mitaka Campus Guidebook: English, Chinese, Korean, or Spanish, as well as standard or braille/large-print Japanese versions. On the other hand, only a limited number of tours guided by an NAOJ staff member are possible and guided tours are limited to weekdays. A guide which can reach more visitors was desired.
The Public Relations Center of NAOJ prepared an audio guide in English and Japanese for each open facility and placed a two-dimensional barcode onsite linking to the audio guide website. Visitors can scan the barcodes with their smartphones or tablets.
Staff members of the Public Relations Center wrote the audio guide carefully considering comments from visually-impaired people to ensure that the explanations can be understood without visual references. The text can also be displayed on the screen of a smartphone or tablet, so that hearing-impaired people can enjoy reading the guide.
Related Link