Mitaka Campus Public Visits Reaches 200,000 Guests!
| Topics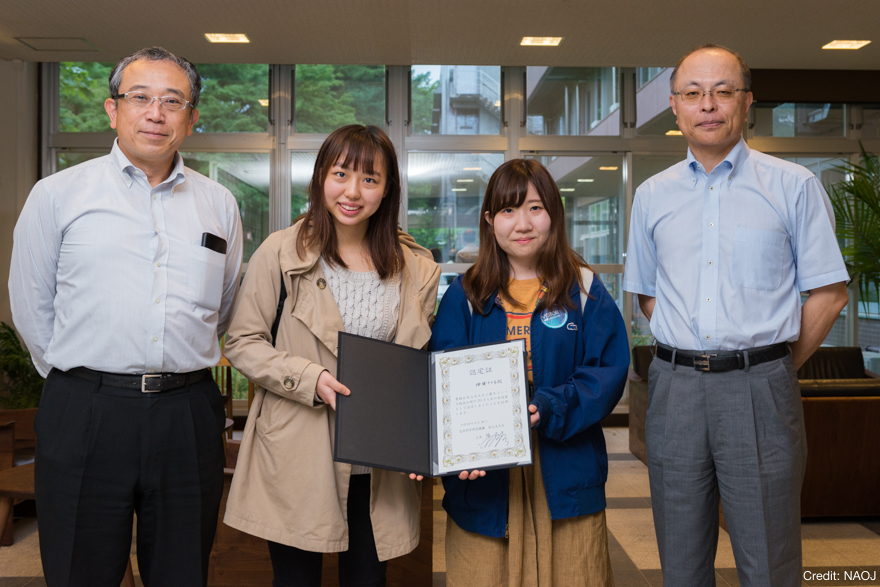 On Friday, May 26, 2017, the NAOJ Mitaka Campus Public visits area welcomed its 200,000th guest. The campus was opened to public visits on Thursday, July 20, 2000.
On this rainy day, Ms. Sakura Nakaura (of Katsushika Ward in Tokyo), who came to visit NAOJ with a friend, became the 200,000th visitor. NAOJ Director Masahiko Hayashi gave Ms. Nakaura NAOJ souvenirs and a certificate to show that she was the 200,000th guest. She came to NAOJ, "to consult about a college report." In college she is taking a class taught by Prof. Toshio Fukushima, who is a professor at NAOJ, so he also showed up at the certificate presentation ceremony.
NAOJ Mitaka Campus is open to the public every day except for the New Year's holiday.In addition, on Saturdays, Sundays, public holidays and long school vacations, commentators guide visitors at the 20-cm Telescope Dome and the Observatory History Museum.
The commentators include student part-time employees and cultural property volunteers. They show visitors the Sun with the 20-cm Refractor Telescope at the 20-cm Telescope Dome on sunny days. Also, they explain about the exhibitions in the Observatory History Museum. They explain about astronomy and answer the visitors' questions, so the visitors seem to be very satisfied. Causal visitors to NAOJ tend to think that astronomy is very difficult. But, reading the questionnaires filled-out by those who came to the public visits area, there are comments like "Although astronomy is difficult and there were parts that I couldn't understand well, it was good to learn that there is a world that I didn't know about," and "I will study more and come back." Those visitors enjoyed experiencing a new world of astronomy.
Thanks to the cooperation of the many people involved in the public visits, we were able to achieve 200,000 visitors. We will continue working hard so that many people can visit our campus and we look forward to your continued support.
Related Link