NAOJ "New Scientist Live" Exhibition Held in London
| Topics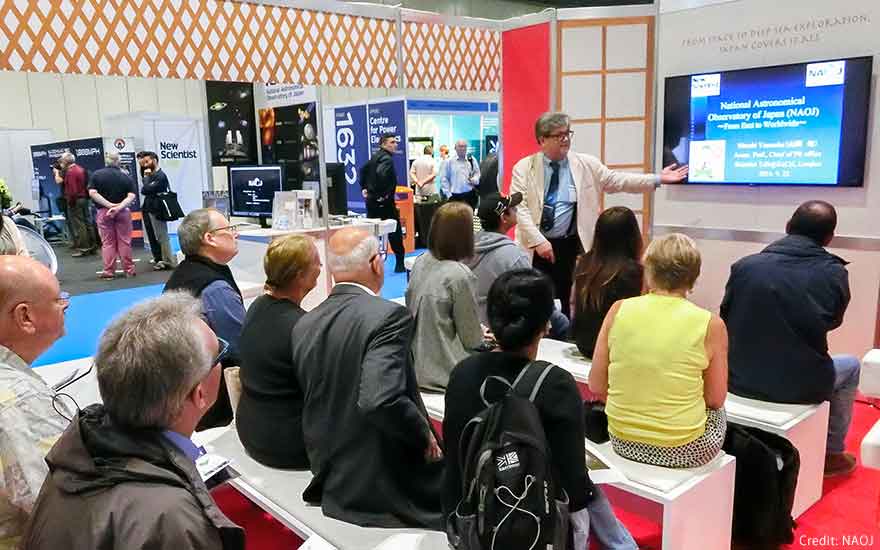 The "New Scientist Live" science exhibition, was held in a suburb of London for four days, September 22-25, 2016. New Scientist, a UK-based science magazine, hosted this event. Over 100 exhibitors - universities and research institutes of various countries, high schools specializing in science, publishers, and so on - presented at the event. The exhibition was about science, technology, life sciences, and space exploration. Many talks and hands-on events were held with various themes every day. The exhibition was crowded; in total more than 20,000 visitors such as press, students, and families participated.
NAOJ and 7 other Japanese Research Institutes* ran a Japanese booth together, called "Best of Japan Science: From space to deep sea exploration, Japan covers it all". We displayed posters, handed out pamphlets, and presented NAOJ's promotional videos. In the "Scientist talk," Dr. Yamaoka, Chief of the Public Relations Office, explained the latest astronomy research, and he performed shows using "Mitaka," the four-dimensional digital Universe viewer. With these exhibitions, NAOJ made its presence known.
* The other 7 Japanese Research Institutes are Okinawa Institute of Science and Technology, RIKEN, Japan Agency for Marine-Earth Science and Technology, Kavli Institute for the Physics and Mathematics of the Universe, Kyoto University, Osaka University, and Kyushu University.
Links