Scientific Authorities Sign the TMT Master Agreement
| Topics
The Thirty Meter Telescope (TMT) project announces that all of the scientific authorities of the TMT partners have signed a Master Agreement. The Master Agreement document establishes a formal agreement amongst the international parties defining the project goals, establishing a governance structure and defining member party rights, obligations and benefits. Masahiko Hayashi, the Director General of the National Astronomical Observatory of Japan, signed the document as the scientific authority representing Japan.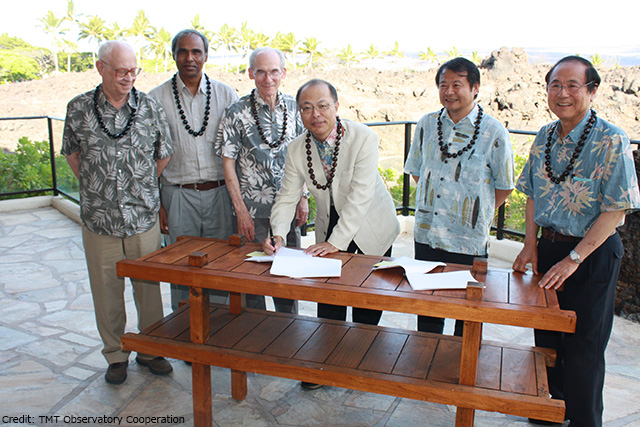 The next step will be for the financial authorities of the partners to similarly sign the document and finalize the funding plan. Construction of TMT is planned to begin in April 2014 and TMT is scheduled to begin scientific operations in 2022 on Mauna Kea, Hawaii.
"We are delighted to start contribution to make this scientific enterprise a reality. We believe TMT and Subaru will be a good match to explore many key riddles of the Universe," said Prof. Masahiko Hayashi, the NAOJ Director General.
The details on the Master Agreement are released on the web page of the TMT observatory corporation.
Link