Huge Sunspots and their Magnetic Structure observed by "Hinode"
In the latter half of October, huge sunspots were observed on the surface of the Sun. These sunspots appeared at the east limb of the Sun on Oct. 16, and moved to the west as the Sun rotated. They rotated out of view after Oct. 30. On Oct. 26, the total area of these sunspots became almost 66 times larger than the Earth's cross section (*1). This was the largest sunspot area in this solar cycle, and the largest observed in the last 24 years (since Nov. 18, 1990). In the middle of November, these sunspots appeared again at the east limb, as the Sun's rotation brought them back into view.
Fig.1 and Fig.2 show the sunspots captured by the solar observing satellite "Hinode" on Oct. 24 and Nov. 15, respectively. In these figures, image (a) is a white light image, and image (b) is the magnetic field map (white = positive (N) pole, black = negative (S) pole).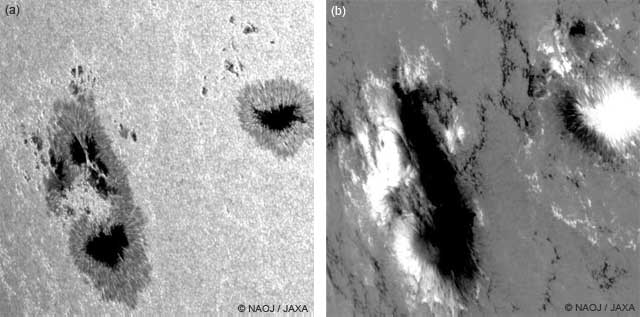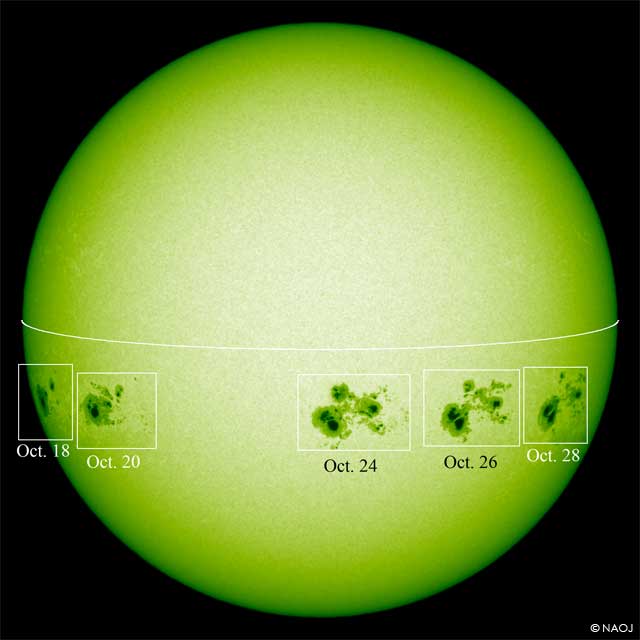 (*1) the area when viewed from above
Link