Publicizing NAOJ and Playing "Mitaka" at the AAAS Meeting
| Topics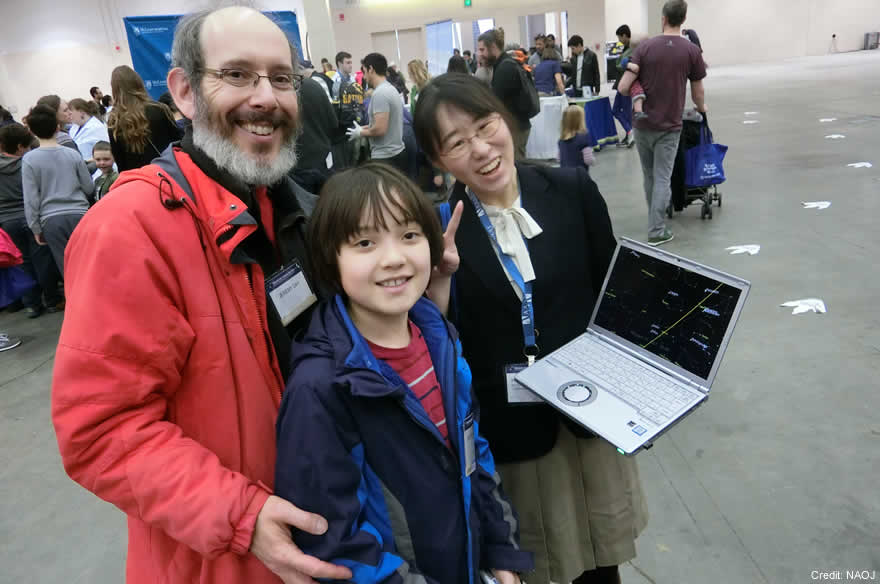 NAOJ had an exhibit booth at the 2017 Annual Meeting of the American Association for the Advancement of Science (AAAS), held from February 17 to 19 in Boston, Massachusetts, USA. AAAS is the world's largest general scientific society and is the publisher of the famous science journal "Science". Thanks to JSPS (Japan Society for the Promotion of Science), NAOJ ran a joint booth with other Japanese research institutes. The meeting was a great opportunity to inform the participants outside Japan about our organization and to demonstrate our outreach activities. Our audience consisted of children, their families, educators, students, and researchers.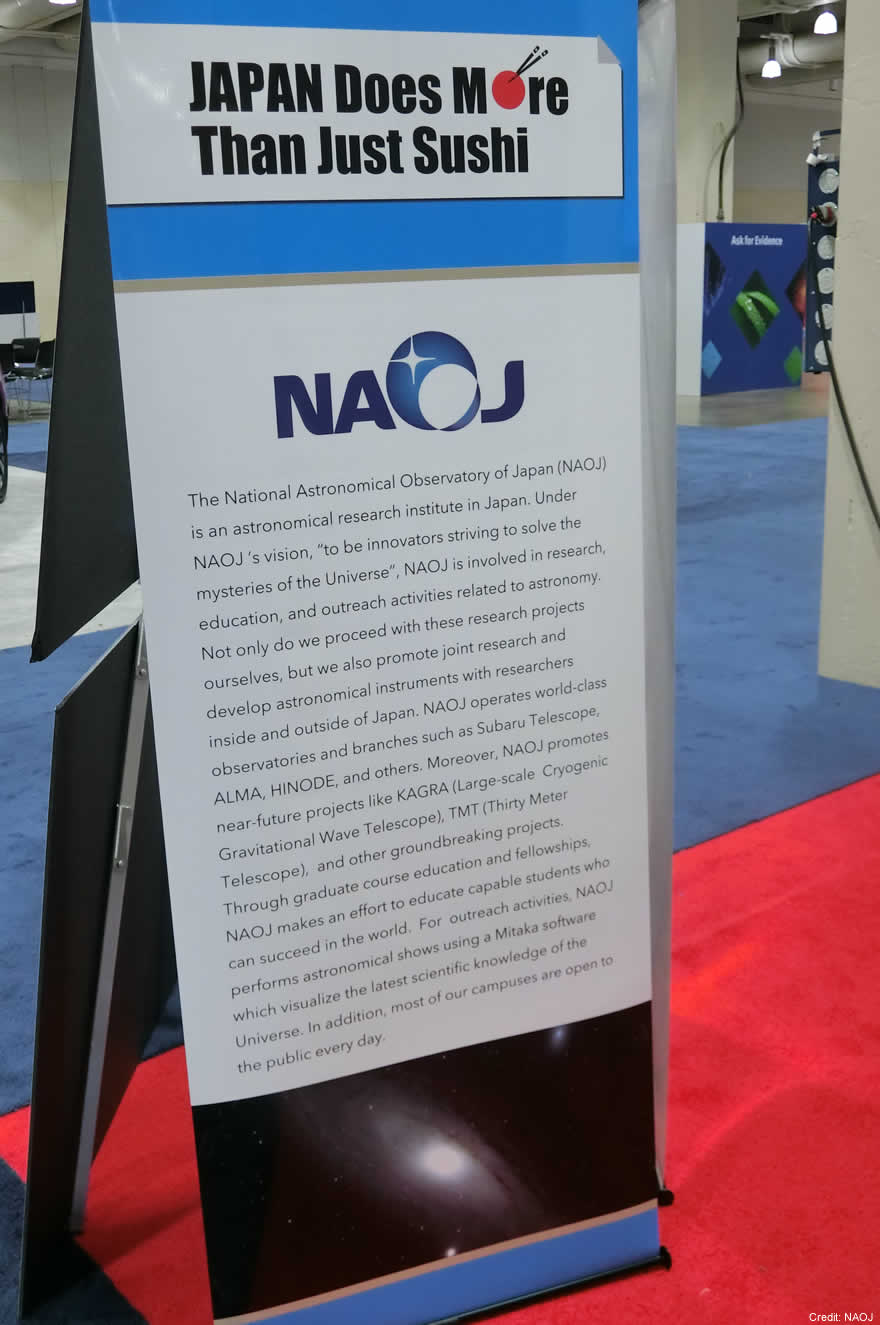 In order to show our outreach activities to various participants, we used an astronomical software program called "Mitaka" developed by our astronomers. Mitaka visualizes the Universe based on the latest data. With this, you can experience space travel: take off from our Earth, visit our Solar System, and go all the way out to 13.8 billion light-years away from the Earth.
Children Gravitated to Mitaka
We explained Mitaka and let attendees operate it. We received great responses about the Mitaka demonstration.
Many children gravitated to the software and were surprised at the latest views of the Universe; especially on Saturday and Sunday when many children and their families were around for the Family Science Days. We let children use the controller and enjoy the Universe. We used a game controller to control the software instead of a mouse. The game controller is a good way to attract children. Some kids wanted to keep playing and didn't let go of the game controller, even though their parents keep saying that it's time to go.
Some parents were as enthusiastic as the children and told us that they wished that they had played it when they were children to stimulate their interest in astronomy and science. In fact, some parents were more enthusiast than their kids and they took over the controller from the children.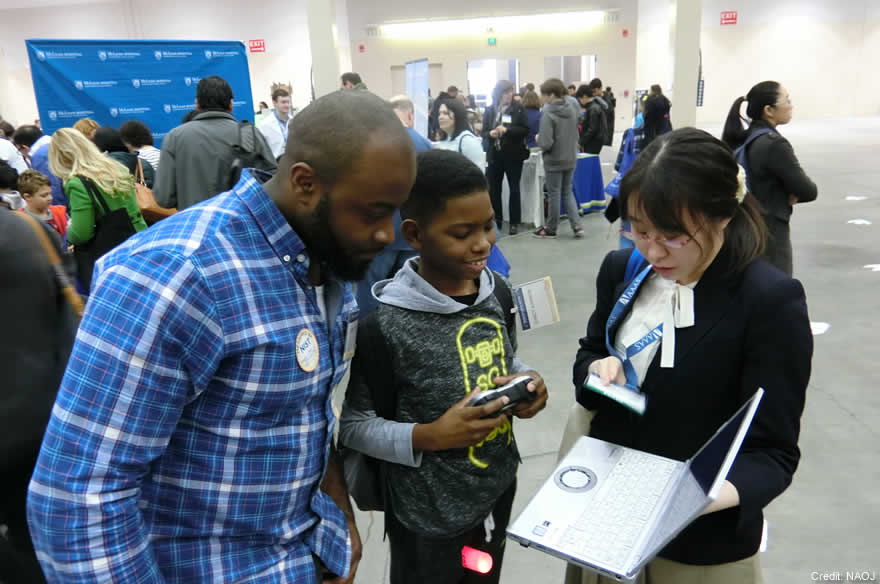 We found that Mitaka was a good way to talk about astronomy and science with families. For example, when a dad told his son that Pluto was not a planet anymore, the son asked why. We used Mitaka to show many objects similar to Pluto in the distant Kuiper Belt. As a result, the child could understand why it was reclassified as a dwarf planet. Next, we demonstrated the orbits of Pluto and the planets with Mitaka so the child could see the orbital differences between the Pluto and the true planets.
Many educators told us that they would download the Mitaka software. One educator told us that she had been thinking about how to show the Solar System. She told us that she would use Mitaka in the classroom.
Publicizing NAOJ Outside Japan
For students, researchers, and educators, we talked about the Subaru Telescope, ALMA, and many other telescopes. Most of them were excited to hear about our research projects and become interested in our organization. Some undergraduate university students told us that they would like to study in Japan.
We are delighted to have many participants interested in the Universe and NAOJ. NAOJ will keep doing these outreach activities to inform people outside of Japan about NAOJ.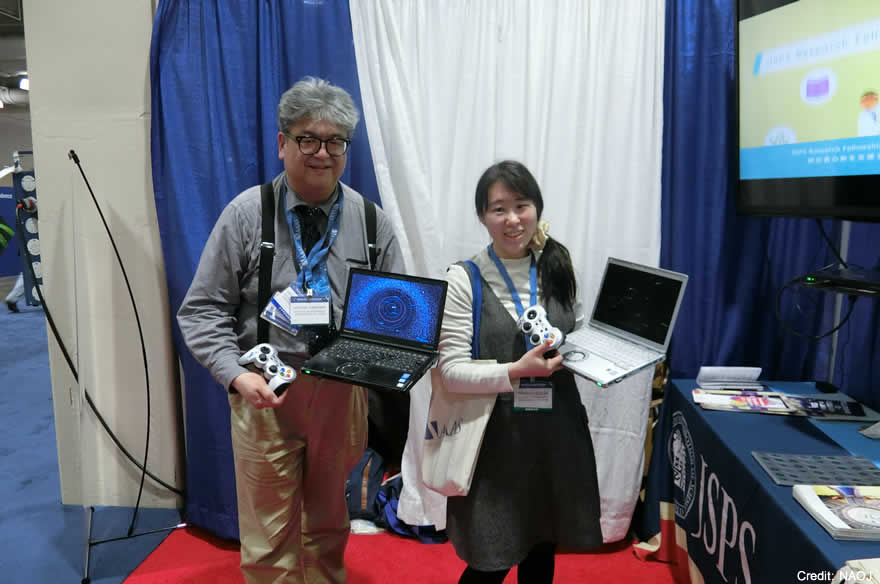 Related Link